Johnny Tremain
(1957)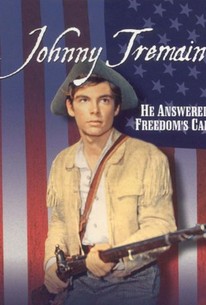 AUDIENCE SCORE
Critic Consensus: No consensus yet.
Movie Info
This Walt Disney filmization of Esther Forbes' Revolutionary-War novel Johnny Tremain was appropriately released on July 4, 1957. New Disney discovery Hal Stalmaster plays the title character, an apprentice silversmith in 1773 Boston. An on-the-job injury prevents Johnny from finding a job, but he is welcomed with open arms at the headquarters of the Revolution. After standing trial on a trumped-up robbery charge brought about by British sympathizer Jonathan Lyte (Sebastian Cabot), Johnny is set free, whereupon he joins the Sons of Liberty during their execution of the Boston Tea Party. Later on, General Gage (Ralph Clanton), the officer in charge of the colonies, does his best to stem the activities of the Sons of the Liberty without resorting to violence but this becomes a moot point after the battle of Lexington Green. If the storyline of Johnny Tremain seems to be divided into two even halves, it is because the film was originally intended as a two-part installment of the Disneyland TV anthology. As it turned out, the film did receive TV exposure on Walt Disney Presents, divided (as planned) into two segments: "The Boston Tea Party" (first telecast November 21, 1958) and "The Shot That Was Heard Around the World" (December 5, 1958).
Audience Reviews for Johnny Tremain
½
I had to read the book for school and I didn't care for it that much. An then my mom made me watch the movie and I was surprised that this was worse. It's not unbearable, but it didn't stay to faithful to the book and was a little bit forgettable. I will say I enjoyed the history that goes with the book.
Ben The Nerd
½
Semi-historical Disney film appeals to the young and young at heart by choosing to not focus on the political turmoil and violence of the Revolutionary War; this account embodied the hopes, the pursuits of happiness and fulfillment, and applauds the independent, strong, hard-working spirit of Johnny, who singularly symbolizes the type of individual that made young America successful. The sense of patriotism is strong, and is the perfect Fourth of July film to watch with the entire family. The acting is decent enough, (though Sebastian Cabot goes a bit overboard as the egotistical Jonathan Lyte,); the costumes, sets, and matte paintings used to bring 18th Century America to life are, typical of a 1950's Walt Disney Production, highly romanticized and highly-appealing. This movie makes you proud to be an American.
Kenneth Elliott
½
An enjoyable enough history lesson disneyified but most of the acting is atrocious!
Johnny Tremain Quotes
There are no approved quotes yet for this movie.
Discussion Forum
Discuss Johnny Tremain on our Movie forum!