American Experience
(2006)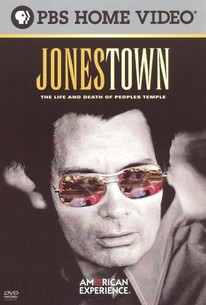 TOMATOMETER
AUDIENCE SCORE
Critic Consensus: Director Stanley Nelson avoids editorializing and sensationalizing in Jonestown, letting the CIA photos and film speak for themselves, and giving a voice to the surviving victims.
American Experience Photos
Movie Info
On Nov. 18, 1978, more than 900 members of Peoples Temple died in the largest mass suicide/murder in history. What drew so many people across racial and class lines to the Peoples Temple? How could a diverse group of 900 people be convinced to commit suicide? What was a California congregation doing in the jungles of Guyana? And who was Jim Jones to command such loyalty that parents would murder their own children? Using never before seen archival footage and survivor interviews, "Jonestown: The Life and Death of Peoples Temple" tells the story of the people who followed Jim Jones from Indiana, to California, and finally to the remote jungles of Guyana, South America, in a misbegotten quest to build an ideal society.
Rating:
NR
Genre:
Directed By:
Written By:
In Theaters:
On DVD:
Runtime:
Studio:
News & Interviews for American Experience
Critic Reviews for American Experience
Audience Reviews for American Experience
This is a crazy story and the fact that it is true is even more nuts. The movie is good as Nelson did a great job of documenting the entire story.
Jim Larrison
½
The Jonestown Massacre was one of the most shocking moments of the late 1970's. Over 900 Cult members committed suicide by drinking Kool-Aid laced with cyanide. This documentary chronicles the history leading up to that event and features interviews with members of the People Temple Church. This was a chilling film that exposed the church for what it was, and it also reveals the story that was hidden from the public eye. Well shot, disturbing, and engaging from the first frame onwards, this is a standout documentary about one of the most shocking tragedies of the 20th century. Here being interviewed are people who left the Church and journalists who have written on the church and the subsequent massacre in 1978. This is a truly unique documentary as there has never been a cult quite like this before or since. This is a hard film to watch due to its subject, but to those interested in the topic, this is a must watch. The film has some riveting footage from the day of the massacre, and eye witness accounts of what happened. Captivating and unforgettable, the film is one of the finest documentaries I've seen. Jim Jones was a mad man, and how he ordered 900+ people to kill themselves is absolutely sickening. The last half of the documentary is truly hard to watch, as the former members of the Peoples Temple describe what happened on November 18, 1978. That was a senseless act ordered by a lunatic, there was nothing to gain with the act, and many people lost their lives for nothing. This is an eye opening, disturbing and powerful documentary that is definitely not for the faint of heart.
I've read and read about this case over a dozen times on-line and off-, and yet cannot tire of its retelling because of how catastrophic and bizarre, and telling it is of US spawned dogma. But now hearing of the roots, the background, and the leading up to has you practically questioning your sanity! This Jim Jones tool basically took advantage of the inherent human perception of conformity and had a lot of perverse methods of manipulating his crowds. It's saddening and scary hearing how fragile people were taken advantage of so easily based on Gestapo scare tactics, the herd mentality and reverse psychology. The documentary has a lot of up close footage of the ongoings and surprisingly even the culminating political situation, although not the mass suicide. Still, listening first hand to the few survivors makes for an insane account. Undeniably interesting from every approach and there's plenty to analyze. Yes, it's a by-the-numbers dissection of the story, and pretty much any director could've carved out a meaningful film based on the content, but you can't over achieve with the subject matter either (That usually takes chance), and it's probably one of the most non-standard from PBS.
Ricardo Craneo
American Experience Quotes
There are no approved quotes yet for this movie.