Jordon Saffron: Taste This!
(2009)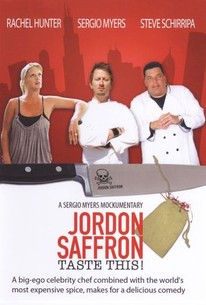 AUDIENCE SCORE
Critic Consensus: No consensus yet.
Jordon Saffron: Taste This! Photos
Movie Info
7 Ponies Productions announces the theatricalrelease of egotistical reality cooking show chef mockumentary "Jordon Saffron - TasteThis!," a film by Sergio Myers. The film premieres in Los Angeles at the Laemmle'sSunset 5 September 18 - 24, and travels across the country on this independent'splatform release by 7Ponies Productions, with DVD distribution by RMS Entertainment,and international sales by Arsenal Pictures.In the film, Jordon Saffron (Sergio Myers), the egotistical reality show chef (in the veinof Gordon Ramsay), suddenly loses his "taste" and everything around him - his girlfriend(Rachel Hunter), TV contract, restaurant, and partner (Steve Schirripa). Traveling backhome to Chicago he faces his fears (and a few hilarious situations) where he reawakens tolove and to "taste" again, in this comedic mockumentary.Sergio Myers, former reality show producer and creator of the hit MTV show "SororityLife" spoofs his past line of work to create a series of "mockumentaries" based on overthe-top entertainment personalities. In the vein of the Sacha Baron Cohen films andLarry David's "Curb Your Enthusiasm," Sergio simultaneously portrays the film's leadcharacter and directs the scenes, following a stand-up comedic formula of impromptuacting. Comments the film's producer, director and star, "There is no written script, but asthe director I am able to get more out of my actors performances by merely describing indetail the emotion of the character in the particular scene, and then letting the actor go."The film was shot in a fraction of time and budget to what typically Hollywood comediescost. "Just like reality TV has changed the course of traditional TV formats forever,traditional film making is in need of a similar change," adds Sergio. A follow-upmockumentary project, based on the life of a white rap artist played by Sergio himself,"Becoming Pony Boi" is set to release next. --© Official Site
Critic Reviews for Jordon Saffron: Taste This!
All Critics (1) | Top Critics (1) | Fresh (0) | Rotten (1)
The film is raucously funny during Saffron's professional and personal meltdowns, but the long scenes of repetitive jokes, the dreary reality-TV style and some very strange accents bring down the whole affair.
Audience Reviews
There are no featured reviews for Jordon Saffron: Taste This! at this time.
Jordon Saffron: Taste This! Quotes
There are no approved quotes yet for this movie.