Journey of Hope
(1991)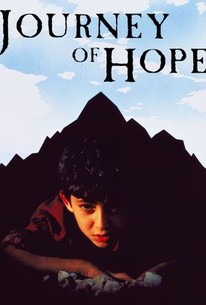 Movie Info
Xavier Koller's fact-based drama chronicles the hardships suffered by a family of Turkish farmers who sell all of their worldly possessions in order to fund an escape to the greener pastures of Switzerland. En route, they fall prey to a group of smugglers, who direct them to access Switzerland via an illegal and dangerous mountain pass.
Critic Reviews for Journey of Hope
All Critics (6) | Top Critics (3) | Fresh (5) | Rotten (1)
This surprise winner of the Best Foreign Language Oscar centers on a poor Turkish couple looking for work in Swizerland

Celebrates the courage and the hope of these refugees who are shamefully treated by both those who prey upon them and those who are quick to close doors on ethnic outsiders

Spirituality and Practice
Audience Reviews for Journey of Hope
½
Haydar hoped for a better life for his family and set out on a journey to Switzerland. I think the words of his father right before the trip foreshadowed the events to come. On the Journey of Hope they get to see how cruel life can be. This is a terribly sad movie with little glimmers of happiness throughout. I guess that is how life is.
Adna A
½
[center][font=Times New Roman][size=4][color=white][img]http://upload.wikimedia.org/wikipedia/en/1/15/Journey_of_Hope.jpg[/img][/color][/size][/font][/center] [font=Times New Roman][size=4][color=white][/color][/size][/font] [font=Times New Roman][size=4][color=white]The front of this movie box says 'A Great Story', 'Gripping', and 'Touching and Compelling'. What they forgot to mention was 'A Snooze Fest'. I don't know how this movie won the Oscar for best foreign language film of 1990, but I'm sure it didn't deserve it. I'm definitely into touching films about someone struggling to achieve something and finally doing it, but Journey of Hope didn't do much for me. It felt unfocused and lacked direction. Its greatest strength was probably its acting, but even that felt a little weak at times. I don't recommend this movie; I believe there are many other better foreign films that are more worth the time.[/color][/size][/font]
Chris Weseloh
Journey of Hope Quotes
There are no approved quotes yet for this movie.
Discussion Forum
Discuss Journey of Hope on our Movie forum!