Journey to the Far Side of the Sun (Doppelganger)
(1969)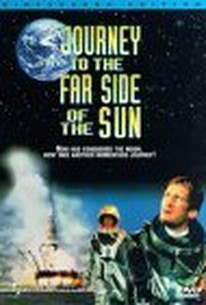 AUDIENCE SCORE
Critic Consensus: No consensus yet.
Journey to the Far Side of the Sun (Doppelganger) Videos
Journey to the Far Side of the Sun (Doppelganger) Photos
Movie Info
A previously unknown planet is discovered within our solar system, orbiting on the far side of the sun exactly opposite the position of the Earth, and at precisely the same speed. The European space agency Eurosec, headed by Jason Webb (Patrick Wymark), whose solar probe made the discovery, decides to send a manned mission to investigate, teaming America's top astronaut Glenn Ross (Roy Thinnes) and British astro-physicist John Kane (Ian Hendry). Their voyage aboard the space vehicle Phoenix is supposed to take six weeks, but when the ship returns to orbit in only three weeks -- ending in a crash of their landing vehicle that kills Kane -- Eurosec can only conclude that Ross has engaged in some sort of sabotage. The astronaut is at a loss as to how they could have done a round-trip in just three weeks, until he makes a startling discovery -- that everything that he sees, from the layout of rooms and buildings to all of the writing around him, is reversed, left to right and right to left. It takes Ross, amid his confusion, to arrive at the only possible conclusion -- that he and Kane did, indeed, journey to the new planet, and that world is a duplicate of Earth (and visa versa) down to the last molecule, a perfect mirror-image; and that world dispatched its own mission, with its own Ross and Kane. He and Webb, and Eurosec, scarcely have time to absorb the implications of this discovery -- if true -- as they prepare for a return flight for Ross, despite enormous risks and some potentially very dangerous unknowns in getting him back to the Phoenix. ~ Bruce Eder, Rovi
Rating:
G (violence)
Genre:
, ,
Directed By:
In Theaters:
On DVD:
Runtime:
Studio:
MCA Universal Home Video
Critic Reviews for Journey to the Far Side of the Sun (Doppelganger)
All Critics (4) | Fresh (1) | Rotten (3)
Journey to the Far Side of the Sun is Thunderbirds filmed in the style of 2001: A Space Odyssey %u2013 not really something one would like to see.

Convoluted and rather dull.

Mountain Xpress (Asheville, NC)
Audience Reviews for Journey to the Far Side of the Sun (Doppelganger)
SPOILERS AHEAD About the most pointless film I've ever seen. After a slow start that seems to be competing with 2001 for showing all of space bureaucracy, though not nearly as effectively or to any purpose, the plot finally kicks in about halfway through the film. There's another planet directly opposite ours that always stays on the opposite side of the sun. A crew is sent to explore it and promptly crashes only to find out they're mysteriously back on Earth. Gosh, I wonder where they could actually be. Could it possibly be an identical but opposite Earth? Admittedly this was made even more obvious since it was the plot of a Red Dwarf episode. It's a sad sad day when a TV comedy as silly as Red Dwarf can follow an idea through to its inevitable conclusion better than you can. Here the "differences" are idiotically simplistic and meaningless, like the fact that people are left-handed and write backwards. Hey, just like a mirror, get it? A mirror world? Isn't that clever! At least Red Dwarf added some interesting differences, like the fact that time was passing backwards. Worse yet we're expected to take this concept seriously here when five seconds' thought would show how dumb it is. And this mystery is the main conflict for the last forty minutes. And then everybody dies. No, I'm not even kidding about that. With no idea where to go once their boring revelation has been made they decide to simply kill off all the characters in an (admittedly pretty cool) explosion, except for one man who's shown years later in a retirement home recounting this story to a nurse. Note that this is the first time we have even a hint that this film is being told in flashback. Pathos? Mystery? Bah! And in a crowning moment of lameness that brings our film to its long overdue end, the old man sees his reflection in a mirror and charges at it in his wheelchair smashing into it and killing himself. Because it's a mirror world! Get it? Pretty clever, huh? I've never seen a film try so hard to be intelligent and thought-provoking without even having one single creative idea. This film is a waste of celluloid. Not even bad enough to be charmingly awful, except in the final minutes. Avoid.
Stuart McCunn
A decent premise, but it seems far too long for what it is, with not much actually happening. There's too many twists and reveals that end up confusing an audience, rather than making them beg for more.
Sophie Burgess
Super Reviewer
The low budget effects and sets will no doubt remind British viewers of Gerry Anderson live action shows with their minimally dressed passel walls and sparkler rockets. The plot is glacial and quickly out stays it's welcome. The last few scenes raise many interesting questions that the movie could have explored if it had condensed its material into the first 2 acts.
Mark Nash
Journey to the Far Side of the Sun (Doppelganger) Quotes
There are no approved quotes yet for this movie.
Discussion Forum
Discuss Journey to the Far Side of the Sun (Doppelganger) on our Movie forum!