Joyeux NoŽl (Merry Christmas)
(2006)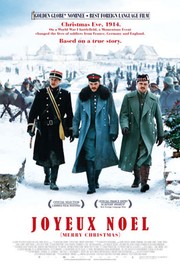 Joyeux NoŽl (Merry Christmas) Trailers & Photos
Movie Info
The year is 1914, and as World War I continues to rage across the European countryside, four individuals stuck on the front lines find themselves faced with the unthinkable in director Christian Carion's Academy Award-nominated account of the true-life wartime event that would offer hope for peace in mankind's darkest hour. When the war machines began rolling in the summer of 1914, the devastation that it waged upon German, British, and French troops was palpable. As the winter winds began to blow and the soldiers sat huddled in their trenches awaiting the generous Christmas care packages sent by the families, the sounds of warfare took a momentary backseat to the yearning for brotherhood among all of mankind. It is here that the fate of a French lieutenant, a Scottish priest, a German tenor, and a Danish soprano's lives were about to be changed forever. On Christmas Eve of that year, the lonely souls of the front lines abandoned their arms to reach out to their enemies on the battlefield and greet them with not anger or hostility, but with the simple, kindly gesture of a much needed cigarette or a treasured piece of chocolate, and to put their differences aside long enough to wish their brothers a sincere "Merry Christmas!" ~ Jason Buchanan, Rovi
more
Cast
News & Interviews for Joyeux NoŽl (Merry Christmas)
Critic Reviews for Joyeux NoŽl (Merry Christmas)
Audience Reviews for Joyeux NoŽl (Merry Christmas)
½
An incredibly thought provoking depiction of the WW1 Christmas ceasefire between the Germans, French and the Scottish. The uniting of each of the countries is especially moving and we get to see each solider as an ordinary human being, without the trails and tribulations of war on their mind. Interestingly, the meeting of German and French soldiers on some occasions is at times funny to watch, as both try to understand one another.

One of the highlights of the film is the brilliant soundtrack. We see Opera singer Sprink sing to all soldiers in quite a poignant moment, which leaves all 3 sets of soldiers incredibly touched. What is so great about that, is that this relates to all occasions of war and that's why it feels more real that we are witnessing.The film has all the best European actors from; Daniel Bruhl, Diane Kruger, to Guillaume Canet to Gary Lewis. This just goes to show just how brilliant European filming really can be.

This may very well be one of my top 5 favourite war films. Highly recommended.
½
Inspired by true events during WWI. ......Touching and poignant, this is a powerfully good Christmas movie. Well acted, well directed, well filmed. You see and feel the difficulty of war, the suffering of the men, the bitter cold of a Belgian winter, and the redemptive power of Christmas even through the darkest of times and events. We also get a good sense of the hypocrisy of the various leaders as they frantically thrash about trying to contain the news of a small outbreak of peace on the Belgian front. Highly recommended.
Discussion Forum
Discuss Joyeux NoŽl (Merry Christmas) on our Movie forum!
News & Features