The Joyless Street
(1925)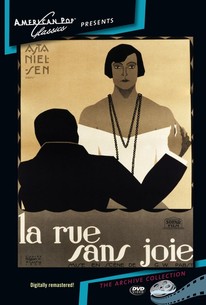 The Joyless Street Photos
Movie Info
This film is an unvarnished study of post-WWI Vienna. Plagued with skyrocketing inflation, the Austrian metropolis becomes the domain of every scurrilous form of profiteering. The central character is a crooked butcher whose negative influence dominates the lives of virtually everyone on a single Viennese street.
Critic Reviews for The Joyless Street
Audience Reviews for The Joyless Street
½
Why this was packaged in the Cult Classics collection by Mill Creek Entertainment, I do not know, but I'm glad they did because this silent film is quite a treasure to stumble upon, even though it's the very short hour long version. I found it to be a beautiful and compelling silent film with an interesting story and characters as they struggle with life in post-World War I Vienna. While I wish a longer version was more widely available, it should say something about a film's quality when even in its shortest form, it's still a damn good film. If you enjoy a good silent film, you should pick up Joyless Street because it is a lost treasure waiting to be rediscovered.
Keenan Sullivan
*** (out of four) A beautifully filmed and tragic silent film that marked the screen debut of one of history's greatest stars...Great Garbo. She is less glamourous than we're used to, but she has an undeniable screen presence. It's hard to keep your eyes off her. She is the film's main attraction. Garbo and Asta Nielsen play two young women who come from respectable, but very poor familes. In order to survive and to help themselves eat, the two young women sell themselves into prostitution. Dismal and depressing, it is also quite memorable.
Steve Smith
½
garbo is one of many stars in this international drama of squalor in post-world war i berlin. garbo's role is grete rumfort, a young woman faced with the prospect of becoming a prostitute in order to survive.
darryl clark
The Joyless Street Quotes
There are no approved quotes yet for this movie.
Discussion Forum
Discuss The Joyless Street on our Movie forum!