Jubal
(1956)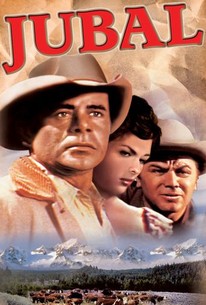 Movie Info
Jubal could just as easily have been titled Othello Out West, even though it was officially based on a novel by Paul I. Wellman. The Othello counterpart is likable (and extremely gullible) ranch owner Shep Horgan (Ernest Borgnine). Horgan hires handsome drifter Cassioer, Jubal Troop (Glenn Ford) as a cowhand, much to the delight of the film's "Desdemona", Horgan's hedonistic wife Mae (Valerie French). The "Iago" of the proceedings is psychotic ranch hand Pinky (Rod Steiger), who, envious of Jubal and hoping to enjoy Mae's sexual favors, sows the seeds of suspicion in Horgan's mind by falsely accusing Jubal of messing around with Horgan's wife. Amidst all this nastiness, there is at least one wholly virtuous character, pretty Naomi Hoktor (Felicia Farr), so guess who Jubal eventually winds up with?
Rating:
NR
Genre:
, ,
Directed By:
Written By:
In Theaters:
On DVD:
Runtime:
Studio:
Columbia Pictures
Audience Reviews for Jubal
Wow! This is great. Glen Ford movies are special. In this one, Rod Steiger uses everything, his body ( check out the poses he makes while trying to get the men to posse) , his voice ( a fantastic accent and cadence throughout his speeches), and his facial expressions. A brutal movie you must face. Oh Pinky!
william barkley
½
A slow paced drama that pits Glenn Ford against Rod Steiger for control of a ranch. Even more, its about forbidden love, temptation. The cinematgrophy is fantastic, set in the Grand Tetons. Anyone that has been there knows this is a film to be reckoned with. I am lost as to just why the Western genre lost its luster, or fame. It wasn't because of this film for sure. It must have been overdone. SEE the trailer here: http://www.youtube.com/watch?v=a3cQ38DsxS4 [img]http://t2.gstatic.com/images?q=tbn:ANd9GcQsjaj0PtO7k7oMYjYS75uXMQS5cTQlmQLe_YVw4RR6zaQvudoz[/img] Jubal is a 1956 Western directed by Delmer Daves based on a 1939 novel by Paul Wellman. The movie stars Glenn Ford, Ernest Borgnine and Rod Steiger and was filmed in Technicolor and CinemaScope on location in Jackson Hole, Wyoming. It is notable as a western reworking of Othello (played by Borgnine), with Steiger as Iago and Ford as Cassio. The supporting cast also includes Charles Bronson, Jack Elam and Felicia Farr. [img]http://s3.amazonaws.com/auteurs_production/images/film/jubal/w448/jubal.jpg?1289446629[/img] Glenn Ford, the man, the legend..... as a newly hired hand SEE the entire film here: http://www.youtube.com/watch?v=EPaX-OscQ74&list=PLDA7E0E2D1353026A 40% more adult than run of the mill oater of the time. borgnine does fine work. ford is l ford while steiger hones his Curly persona. Not rated % ----Wonderful film. Fantastic ending, a really satisfying conclusion. Story by Shakespeare, great characters and playing. One of the top 25 Westerns. 70% Solid and well made western, the ample budget shows. Great cast, well acted. Most any western with Glenn Ford is a good one. Great cinematography,..... [img]http://t3.gstatic.com/images?q=tbn:ANd9GcSORO32CF_VbmLWpLxFnD3TrrruIvEZfaQuHMhD6e4NjgR3FsoXjw[/img] A young Charles Bronson also appears in the film NOTES: 1 Glenn Ford's son, Peter, says his dad kept diaries as long as he could write, even to death. He also reveals in this interview that Glenn was quite a womanizer, a man who had more than 150 love encounters! It seems Ford was more a romantic off screen than on! SEE the entire clip of the first part of this two part interview: http://www.youtube.com/watch?v=jDsjhOSYOoQ&feature=endscreen&NR=1 Cast Glenn Ford as Jubal Troop Ernest Borgnine as Shep Horgan Rod Steiger as Pinky Valerie French as Mae Felicia Farr as Naomi Charles Bronson as Reb Jack Elam as McCoy [img]http://t3.gstatic.com/images?q=tbn:ANd9GcSCA1_UVymEsmHX4rqF7Ez7H8Hf6Iyw3Aw3fYzBTTvmqhVT_ot05g[/img] As usual, Rod Steiger shown here is a villain. Too bad, he was a tremendous talent in dozens of great films Directed by Delmer Daves Written by Delmer Daves Russell S. Hughes Paul Wellman (novel) Starring Glenn Ford Ernest Borgnine Rod Steiger Charles Bronson Jack Elam Music by David Raksin Cinematography Charles Lawton Jr. Distributed by Columbia Pictures Release date(s) 1956 Running time 100 minutes Language English Box office $1.8 million (US)
monsieur rick
A solid western which shares more with a Shakespearean tragedy than a gunslinger pulp mag. Set on a cattle farm, thins stir up as new arrival Jubal (Ford) catches the eye of the bosses wife. What unfolds is the timeless dance of jealousy and survival. While very dense in structure, the cast makes this movie very enjoyable and lively. Glenn Ford delivers, so does Rod Steiger who plays a delightfully evil nemesis and adds an existential depth to the film, unusual for classic US westerns. Great if youlije Westerns !
Henrik Schunk
Super Reviewer
Jubal Quotes
There are no approved quotes yet for this movie.