Judgment at Nuremberg
(1961)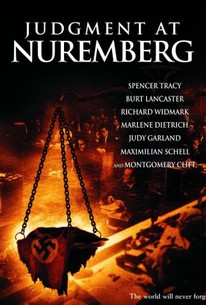 Judgment at Nuremberg Photos
Movie Info
After the end of World War II, the world gradually became aware of the full extent of the war crimes perpetrated by the Third Reich. In 1948, a series of trials were held in Nuremberg, Germany, by an international tribunal, headed by American legal and military officials, with the intent of bringing to justice those guilty of crimes against humanity. However, by that time most of the major figures of the Nazi regime were either dead or long missing, and in the resulting legal proceedings American judges often found themselves confronting the question of how much responsibility someone held who had "just followed orders." Judgment at Nuremberg is a dramatized version of the proceedings at one of these trials, in which Judge Dan Haywood (Spencer Tracy) is overseeing the trials of four German judges -- most notably Dr. Ernst Janning (Burt Lancaster) and Emil Hahn (Werner Klemperer) -- accused of knowingly sentencing innocent men to death in collusion with the Nazis. Representing the defense is attorney Hans Rolfe (Maximilian Schell), while prosecuting the accused is U.S. Col. Tad Lawson (Richard Widmark). As the trial goes on, both the visiting Americans and their reluctant German hosts often find themselves facing the legacy of the war, and how both of their nations have been irrevocably changed by it. Judgment at Nuremberg also features notable supporting performances by Marlene Dietrich, Judy Garland, and Montgomery Clift. Originally written and produced as a play for television, the screen version of Judgment at Nuremberg was nominated for 11 Academy Awards, with Maximilian Schell and Abby Mann taking home Oscars for (respectively) Best Actor and Best Adapted Screenplay. ~ Mark Deming, Rovi
Critic Reviews for Judgment at Nuremberg
Audience Reviews for Judgment at Nuremberg
½
An always fascinating courtroom drama whose truly indisputable cinematic strength lies in many unforgettable performances from the entire cast and an extremely complex, thought-provoking script that never ceases to question our perceptions about the case and History itself.
Carlos Magalhães
Super Reviewer
Leaders of the Third Reich are put on trial at Nuremberg with a thoughtful American judge at the helm. The themes in the film are remarkably varied and explored with an impressive degree of depth. How do we judge a people, a society? Can we separate individuals from the society to which they belong? What is the proper response to travesty? Does following orders exonerate those who carry out crimes? This is a film about deep philosophical matters, and it both poses answers and puts the onus on its audience. The natural dignity of Spencer Tracy has never been put to better use, and his performance is matched by the soulful Burt Lancaster and the fiery Maximilian Schell. Overall, usually important films are tedious, but this one is too important to miss.
Jim Hunter
Super Reviewer
Judgement at Nuremberg is a classic film about the Nuremberg trials. Brilliantly acted and directed, the film chronicles one of the most important trials of the 20th century. The Nuremberg Trials were the first trials of its kind, and it brought to justice the men responsible of bringing millions of people to their deaths during the Holocaust. The story of the Nuremberg trials has been recounted many times on film, and I've seen quite a few films on the subject. Judgement at Nuremberg is the finest example of the trial. Stanley Kramer delivers stunning picture that boasts a great cast of actors, and the film has a wonderful script that captures the importance of the trial. Kramer directs a wonderful cast including Maximillian Schell, William Shatner, Spencer Tracy and Burt Lancaster. This is a flawless drama, and a must see for those who love court room drama. The film captivates the viewer by the fact that that this is based on real events and it adds to the experience. I found this film to be one of the better reconstructions of the trials, one that felt more subtle than other films, which for me anyway, felt less over dramatic, which is necessary in order to make a great film. Using great performances and a great story, Stanley Kramer was able to pull off a memorable and engaging drama that still resonates today. If you love classic cinema, Judgement at Nuremberg is a stunning, well acted film that recounts an important part of history. This is the finest portrait of the trials that I have seen, and anyone looking for the definitive portrait of the trials should watch this film. The cast, story, and direction are all top notch, and they make for a truly engaging film experience.
Judgment at Nuremberg Quotes
| | |
| --- | --- |
| Gen. Merrin: | To Lawson: Look, I'm not your commanding officer. I can't influence your decision, and I don't want to. But I want to give this to you, and I want to give it to you straight. We need the help of the German people. And you don't get the help of the German people...by sentencing their leaders to stiff prison sentences. The thing to do is survive, isn't it? Survive as best we can, but survive. |
| | |
| --- | --- |
| Hans Rolfe: | Why did we succeed, Your Honor? What about the rest of the world? Did it not know the intentions of the Third Reich? Did it not hear the words of Hitler's broadcasts all over the world? Did it not read his intentions in Mein Kampf...published in every corner of the world? Where is the responsibility of the Soviet Union...who signed in the pact with Hitler...enabled him to make war? Are we now to find Russia guilty? Where is the responsibility of the Vatican...who signed in the concordat with Hitler...giving him his first tremendous prestige? Are we now to find the Vatican guilty? Where is the responsibility of the world leader Winston Churchill...who said in an open letter to the London Times in : "Were England to suffer a national disaster, I should pray to God...to send a man of the strength of mind and will of an Adolf Hitler." Are we now to find Winston Churchill guilty? Where is the responsibility of those American industrialists...who helped Hitler to rebuild his armaments, and profited by that rebuilding? Are we now to find the American industrialists guilty? No, Your Honor. Germany alone is not guilty. The whole world is as responsible for Hitler as Germany. |
| Hans Rolfe: | Why did we succeed, Your Honor? What about the rest of the world? Did it not know the intentions of the Third Reich? Did it not hear the words of Hitler's broadcasts all over the world? Did it not read his intentions in Mein Kampf...published in every corner of the world? Where is the responsibility of the Soviet Union...who signed in the pact with Hitler...enabled him to make war? Are we now to find Russia guilty? Where is the responsibility of the Vatican...who signed in the concordat with Hitler...giving him his first tremendous prestige? Are we now to find the Vatican guilty? Where is the responsibility of the world leader Winston Churchill...who said in an open letter to the London Times in : 'Were England to suffer a national disaster, I should pray to God...to send a man of the strength of mind and will of an Adolf Hitler.' Are we now to find Winston Churchill guilty? Where is the responsibility of those American industrialists...who helped Hitler to rebuild his armaments, and profited by that rebuilding? Are we now to find the American industrialists guilty? No, Your Honor. Germany alone is not guilty. The whole world is as responsible for Hitler as Germany. |
| | |
| --- | --- |
| Col. Tad Lawson: | "The hare was shot by the hunter in the field." It's really quite simple. |
| Col. Tad Lawson: | 'The hare was shot by the hunter in the field.' It's really quite simple. |
| Capt. Harrison Byers: | Colonel, I think we ought to be going. |
| Judge Dan Haywood: | Yes, we really shouldn't be discussing this. |