Judy Berlin
(1999)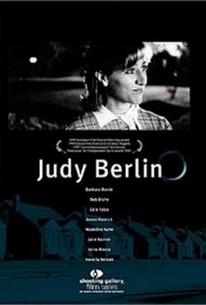 Movie Info
In this film, Judy is an aspiring actress who quits her job at a historical museum to take her chances in L.A. David also has show-biz aspirations, though he has no idea of what to do about it. When Judy and David meet, could romance be lurking around the corner?
Rating:
NR
Genre:
,
Directed By:
Written By:
In Theaters:
On DVD:
Runtime:
Studio:
Jaeger Films
Critic Reviews for Judy Berlin
Audience Reviews for Judy Berlin
½
A gentle, offbeat drama that hails the arrival of a new talent in writer-director Eric Mendelsohn, and bids a poignant farewell to a uniquely gifted actress, the late Madeline Kahn. Judy Berlin isn't just a slice-of-life movie; it's the quintessential slice-of-life movie--a movie whose primary purpose is to capture a moment in time and contextualize it.
Lee Mayo
½
Decent but inconsistent.
John Ballantine
Super Reviewer
½
(VHS) (First Viewing, 1st Mendelsohn film) I bought this film (along with Rivette's [b]Va Savoir[/b]) for $1.99 at a Hollywood Video VHS blowout sale. Like most film buffs, I've been staying away from VHS as much as possible, but even though he film piqued my interest, I knew it would be years if I ever rented it, [i]if[/i] I ever did. And at two bucks I knew that even if it was crap it wouldn't be a big deal (you can't even get a decent hamburger at that price anymore). It has ended up being the best two bucks I've spent in a while. Isn't it awesome when that happens? [b]Judy Berlin[/b] follows a rather eccentric group as they wander around their undistinctive New York suburb wasteland during a solar eclipse. During this time the various characters reevaluate their lives, their relationships with others and the future. Yeah, the metaphor is a tad too heavy-handed at times, but it looks amazing in black and white photography. Actually, the film itself is gorgeous, probably the best looking black and white film I've seen from the last few years (it puts the overrated [b]Man Who Wasn't There[/b] to shame). [b]Judy Berlin[/b] offers some amazing performers and performances to savor. This was Madeline Kahn's last film before she tragically succumbed to cancer in 1999, and as an emotionally abandoned housewife who's mind is beginning to fray around the edges, she gives a devestating performance laced with wit. Then there's Barbara Barrie, who snagged an IFC nomination for her performance, who plays a domineering school teacher who covers her insecurities and dissapointment with life under an artificially cheerful demeanor and appears to begin an affair with the principle of her school who happens to be Kahn's soft-spoken husband, played by Bob Fishy. Barrie's real life son, Aaron Harnick, is Kahn and Fishy's wandering son who failed in filmmaking and who comes back home to wallow in his feelings of dissapointment. But Harnick gets a wake up call during a chance encounter with Judy Berlin, an old schoolmate, played by Edie Falco. Folco steals the show as the outgoing, bouncy young woman eager to get out of town later that day to "go to the coast" (LA) to become a movie star. There's a scene near the end of the film when in a rage Harnick tells her that Hollywood isn't "acting classes down at the Y" and that she has no chance in LA. From the look in her eyes it's obvious she is devestated, but as she turns away she says in a hushed voice "I know." Freakin' ripped my heart out. Writer/director Eric Mendelsohn, who worked on several of Woody Allen's films, completes his second feature film in [b]Judy Berlin[/b], and he certainly has an eye for finding the beautiful in the mundane, which he displays in some spectacular montages throughout the film. He also makes an interesting creative choice with a soundtrack composed solely of eerie Baroque sounding music played on a harpsicord-like instrument. Brought to mind images of of [b]Last Year at Marienbad[/b] on more than one occasion. I've never seen this mentioned, let alone discussed, on any message board I frequent. 'Tis a shame. A beautifully acted, a visually stunning, but simple and quiet film that harkens back to the days of art cinema. Definitely worth checking out if you're into that type of film.
Jesse Last
Judy Berlin Quotes
There are no approved quotes yet for this movie.