Julius Caesar
(1979)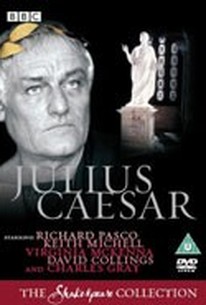 AUDIENCE SCORE
Critic Consensus: No consensus yet.
Movie Info
This 1979 BBC/Time-Life production of Julius Caesar faithfully follows Shakespeare's original version. When the film begins, cheering throngs hail Julius Caesar (Charles Gray) as he parades through the streets of Rome after conquering Pompey the Great. But a soothsayer unsettles the crowd when he shouts to Caesar, "Beware the Ides of March," then repeats his warning. Paying no heed, Caesar moves on, unaware that a prominent citizen, Cassius (David Collings), is at that very moment hatching a plot to murder Caesar on the Ides (March 15). Cassius and other Romans fear Caesar will assume absolute control of Rome as a king, thereby ending freedom and curtailing the influence of noblemen. After Cassius persuades the highly respected Marcus Brutus (Richard Pasco) to participate in the plot, other prominent citizens join them. That evening, a violent storm shakes Rome, and Caesar's wife, Calpurnia (Elizabeth Spriggs), believes it is an omen signaling grave danger to Caesar if he goes to the Capitol the next day. Hearing of other signs, she tells Caesar, "A lioness hath whelped in the streets, and graves have yawn'd, and yielded up their dead; fierce fiery warriors fought upon the clouds...which drizzled blood upon the Capitol." Caesar agrees to remain home until one of the conspirators, Decius Brutus (Alex Davion), visits him and persuades him that his wife misinterpreted the omens. The image of blood she saw, the conspirator says, "signifies that from you great Rome shall suck reviving blood." After Caesar arrives at the Capitol on the Ides, the conspirators surround and stab him. News of his death brings civil war. At the funeral, Marcus Antonius (Keith Michell), Caesar's friend, eulogizes Caesar in an emotional speech that arouses the people against Brutus and the conspirators. Then Antony and two allies form a ruling partnership and track down the fleeing armies of Cassius and Brutus. Seeing that all is lost, Cassius and Brutus commit suicide. Viewers of the play have long argued over who is its real villain -- Caesar, because of his apparent lust for power, or Brutus, because of his betrayal of Caesar. ~ Mike Cummings, Rovi
Critic Reviews for Julius Caesar
There are no critic reviews yet for Julius Caesar. Keep checking Rotten Tomatoes for updates!
Audience Reviews for Julius Caesar
There are no featured reviews for Julius Caesar at this time.
Julius Caesar Quotes
There are no approved quotes yet for this movie.
Discussion Forum
Discuss Julius Caesar on our Movie forum!