Jumanji: Welcome to the Jungle
(2017)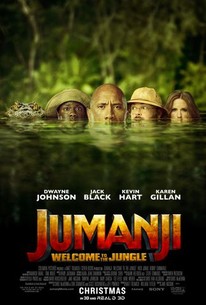 TOMATOMETER
AUDIENCE SCORE
Critic Consensus: Jumanji: Welcome to the Jungle uses a charming cast and a humorous twist to offer an undemanding yet solidly entertaining update on its source material.
Jumanji: Welcome to the Jungle Videos
Jumanji: Welcome to the Jungle Photos
Movie Info
When four high-school kids discover an old video game console with a game they've never heard of--Jumanji--they are immediately drawn into the game's jungle setting, literally becoming the avatars they chose: gamer Spencer becomes a brawny adventurer (Dwayne Johnson); football jock Fridge loses (in his words) "the top two feet of his body" and becomes an Einstein (Kevin Hart); popular girl Bethany becomes a middle-aged male professor (Jack Black); and wallflower Martha becomes a badass warrior (Karen Gillan). What they discover is that you don't just play Jumanji--you must survive it. To beat the game and return to the real world, they'll have to go on the most dangerous adventure of their lives, discover what Alan Parrish left 20 years ago, and change the way they think about themselves--or they'll be stuck in the game forever...
News & Interviews for Jumanji: Welcome to the Jungle
Critic Reviews for Jumanji: Welcome to the Jungle
Audience Reviews for Jumanji: Welcome to the Jungle
Dwayne Johnson and Kevin Hart re-team in the ever so bankable adventure romp, chock full of more laughs than most comedies, as gamers sucked into the titular game, forced to work together. If fun at the movies is your go-to, go to this one then.
Kevin M. Williams
Super Reviewer
Jumanji: Welcome to the Jungle is a twenty-year plus sequel that is way more fun than you would have expected for a twenty-year plus sequel. It's updated to modern-day by ditching a living board game and instead transporting four Breakfast Club high school stereotypes into the world of an old school adventure video game. The biggest boost is the camaraderie and comic interplay of the four leads (Dwayne Johnson, Kevin Hart, Karen Gillan, Jack Black), each blessed with memorable moments to shine and a satisfying arc. The adults are great at playing as children-in-adult-bodies. The film does a good job of introducing the rules of its world while also explaining the mechanics of video games (cut scenes, life meters, re-entering the game), at the same time holding your hand through it all. The satire of video games is often amusing like the strengths/weaknesses discussion, and there's a very good reason why Gillan is dressed in a skimpy outfit, which even the movie calls out. It's a simple story told without subtlety but this movie is packed with payoffs and spreads them evenly throughout. The actors are truly delightful and this should be a breakout role for Gillan. She is very adept at being silly with physical comedy and has a wonderful bit where she tries to seduce some guards after some flirting coaching from Jack Black. Thankfully, Black being a self-obsessed teen girl on the inside doesn't veer into transphobic/homophobic mockery. The awkwardness of the body swap scenario is never forgotten, which lends itself to consistent comedy and heart. There are a lot of great little moments and enjoyable set pieces. Jumanji is a tremendously fun movie that won't insult fans of the original. If you're looking for an unexpected amount of entertainment this holiday season, check out the Jumanji sequel and one of the year's best comic teams. Nate's Grade: B+
Nate Zoebl
Super Reviewer
½
It has been over 20 years since the release of the original Jumanji, and quite honestly, I never once thought about ever needing a sequel or revamp of that classic material. I mean, just over ten years ago we saw a great little film in Zathura, so I had my fill of this type of movie. That being said, I never thought I'd be writing a review that tells people to go out and see a film that completely altered what the original film was, but here I am. Jumanji: Welcome to the Jungle is a really fun time at the movies. I won't be comparing it to the original because they both fit their times. Although it's not without its issues, here's why I believe Jumanji: Welcome to the Jungle deserves to be seen in theatres. Being a fan of the original film, I wasn't too keen on the video game aspect that this sequel was injecting into the franchise, but it really worked for me in the context of the story. As the film follows four very generically-stereotyped characters in Spencer, Fridge, Bethany, and Martha, they find themselves stuck in detention after school hours. Coming across an old video game console, they plug it into the television and are sucked into the world of Jumanji. Yes, the question everyone will be asking is how the board game is now a video game, but the movie does a solid job in nodding to the fans about that. After being sucked into the game, they become the avatars they chose. The characters, played by Dwayne Johnson, Jack Black, Kevin Hart, and Karen Gillan are all fantastic here, playing though they're still their outside selves. This aspect is what makes the movie worth it because it allows them to discover new things about themselves, either giving them bravery or realizing life is just fine for them in the outside world. The morals of the story and the climax itself has been seen in thousands of movies throughout the years, but it's all about how a movie is executed these days, and Jumanji: Welcome to the Jungle sucks you in with these characters and provides a very fun adventure, for the most part. This film asks you to pretend that you're actually in a video game with these characters, so repetitive dialogue from secondary characters can become hilarious if you're thinking with that mindset, but also odd for those who are unfamiliar with video games. This brings me to my biggest negative about this movie, because a video game follows either one or multiple characters at the same time, making discoveries along the way. A video game never cuts away to show other plot-lines forming, but this movie does feel like an actual movie at times, cutting away to the villain of the story, who's also the weakest aspect of it as well. The villain, played by Bobby Cannavale (who I'm actually a huge fan of as an actor), is far too over-the-top in this role, which can be funny at times, but it feels out of place when placing random scenes of him and his henchmen throughout the movie. Personally, this portion of the film annoyed me and I couldn't wait to get back to the central characters. In the end, Jumanji: Welcome to the Jungle is fun for fans of the original, providing winks and nods to the first film throughout the movie, as well as providing a fun adventure for all newcomers. From bumping into characters like Alex (Nick Jonas) in order to add some emotional aspects, to having some pretty cool action sequences, to providing humor that both adults and kids can laugh at, I didn't have any glaring issues with the film itself, aside from the incredibly annoying villain subplot. Overall, although not complex in the slightest, Jumanji: Welcome to the Jungle is a fun time at the movies, plain and simple.
Jumanji: Welcome to the Jungle Quotes
There are no approved quotes yet for this movie.