Jumanji: Welcome to the Jungle
(2017)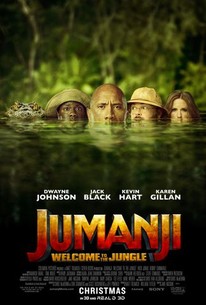 TOMATOMETER
Want to See
Critic Consensus: Jumanji: Welcome to the Jungle uses a charming cast and a humorous twist to offer an undemanding yet solidly entertaining update on its source material.
Jumanji: Welcome to the Jungle Videos
Jumanji: Welcome to the Jungle Photos
Movie Info
When four high-school kids discover an old video game console with a game they've never heard of--Jumanji--they are immediately drawn into the game's jungle setting, literally becoming the avatars they chose: gamer Spencer becomes a brawny adventurer (Dwayne Johnson); football jock Fridge loses (in his words) "the top two feet of his body" and becomes an Einstein (Kevin Hart); popular girl Bethany becomes a middle-aged male professor (Jack Black); and wallflower Martha becomes a badass warrior (Karen Gillan). What they discover is that you don't just play Jumanji--you must survive it. To beat the game and return to the real world, they'll have to go on the most dangerous adventure of their lives, discover what Alan Parrish left 20 years ago, and change the way they think about themselves--or they'll be stuck in the game forever...
News & Interviews for Jumanji: Welcome to the Jungle
Critic Reviews for Jumanji: Welcome to the Jungle
Audience Reviews for Jumanji: Welcome to the Jungle
½
I was born in 1987. Meaning I turned a perfect eight years-old in 1995. I don't know if I first saw Joe Johnston's Jumanji when it opened that December, but I know I saw it within a year of that release and many, many times after. Admittedly, I haven't revisited the whole of the picture in quite some time, but what I clearly remember about the experience of Jumanji at that impressionable age was the unexpected grandeur of it all-the substance the film carried in the tragedy of this child disappearing from this pristine town and the unfortunate dynamic between he and his parents that, when he did finally return, would lead to a lifetime of regret. These were big themes for a little kid and maybe even the first time I'd really been forced to contemplate as much. It was a movie that made a big impression if not for the mystery and implied scale, but for these themes of loss that resonated with me and now allow me to have these fond and rather heartfelt memories of the film. And so it goes, I could not have been less excited for a twenty-two-year later sequel that would seemingly have no connection to the original, but instead be branded as such to entice the interest of audiences such as myself while selling the movie to younger crowds on the concept of stars like Dwayne Johnson, Kevin Heart, Jack Black, and Karen Gillan appearing in an all-out action adventure with a cool premise. I wasn't ready to think this kind of backwards engineering of new franchises by mining old movies that appealed to those who now have disposable income and children of their own so as to get as many butts in seats as such brand recognition could, but dammit if this twenty-two-year later sequel isn't a whole lot of fun. Jumanji: Welcome to the Jungle isn't going to break any barriers or win any awards, but that's not its intention and given that intention and my lowered expectations out of nothing more than my affection for the original I went into this new film hoping the well-rounded cast could turn what undoubtedly had to be a half-hearted story into something at least remotely entertaining. Not only is Welcome to the Jungle entertaining though, but it is consistently engaging in the obvious, but well executed video game-level structure it possesses as well as offering far more frequent and less obvious laughs than I would have expected the script to deliver. At just under two hours (credits and all) this belated, but welcome (who would have thought?) expansion on the world of Jumanji is certainly an adventure worth taking for those of us that seek to find a place to leave their world behind (and for those who just want to have a good time at the movies). read the whole review at www.reviewsfromabed.com
Philip Price
Super Reviewer
Jumanji: Welcome to the Jungle Quotes
There are no approved quotes yet for this movie.
Discussion Forum
Discuss Jumanji: Welcome to the Jungle on our Movie forum!