Junkers Come Here
(1995)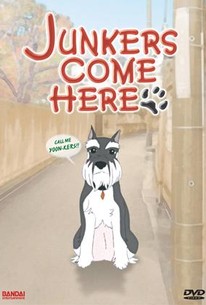 AUDIENCE SCORE
Critic Consensus: No consensus yet.
Movie Info
A talking Schnauzer with the ability to grant three wishes befriends a lonely Japanese girl whose workaholic parents are teetering on the brink of divorce in this animated tale of friendship from director Junichi Sato. Hiromi is the only member of the Nozawa family who knows that their new dog Junkers has the unusual ability to speak like humans. Though the lonely eleven-year-old fears that her parents' relationship has passed the point of no return, her furry friend reveals yet another secret that just may brighten the spirit of his depressed young friend. ~ Jason Buchanan, Rovi
Rating:
NR
Genre:
, ,
Directed By:
In Theaters:
On DVD:
Runtime:
Audience Reviews for Junkers Come Here
While I tend to watch Japanese anime (and other foreign films) in the original languages with subtitles, I picked the dub for the sole reason that I was absolutely amused at how the DVD case has Junkers saying "Call me YOON-kers!!" and figured that the English dub would probably highlight that better than the Japanese version. It isn't a great dub, but thankfully most of the main characters are decent. Next time I'll definitely watch the subs and see if that improves the feel. Voice acting issues aside, Junkers Come Here is perhaps Japan at their most Disney-esque. Sure, Studio Ghibli (and Hayo Miyazaki) are frequently referred to the Disney of Japan, and their films ARE amazing. However, the comparison works best in terms of quality and popularity moreso than actual tone or looks. (That said Junkers is nowhere near the quality of SG/Miyazaki.) As far as the story itself, it is both familiar and expected... but some nice ambiguities and some excellent supporting characters help propel it. (Possible spoiler alert ahead) I do have to wonder if the directors thought about how the theme of the story could be interpreted in one tragic, unintentional way: using up all of the wishes on your magical dog will transform him into a normal dog. And who wants that??
Jacob Gehman
½
God, I saw this a long, long time ago. It was a really good movie, though. I'd like to see it again.
Allegra F
[center][u][size=7]Indiana Jones and the Kingdom of the Crystal Skull [/size][/u][size=7][b][font=Comic Sans MS]**** [/font][/b][/size][left][b][size=3]Great. Best Indy ever. Best movie of the year. Wasn't bored for a second. [/size][/b][center][u][size=7]The Savages [/size][/u][size=7][font=Comic Sans MS][b]**** [/b][/font][/size][left][size=3][b]Amazing. Very topical. Loved every minute of it. Can't wait to see it again. [/b][/size][center][u][size=7]Junkers Come Here [/size][/u][size=7][font=Comic Sans MS][b]**1/2 [/b][/font][/size][left][size=3][b]Pointless. Boring. Couldn't wait for it to end. It took a week to arrive and it definately was NOT worth the wait.[/b][/size] [/left] [/center] [/left] [/center] [/left] [/center]
Dillon James
Junkers Come Here Quotes
There are no approved quotes yet for this movie.