Ju-on: The Curse (Curse Grudge)
(2000)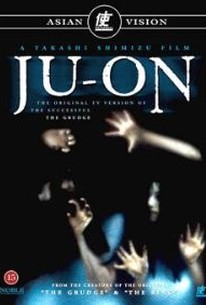 Movie Info
A teacher visits the house of one of his students after the boy goes missing, only to have a horrifying excuse for his absence from school.
News & Interviews for Ju-on: The Curse (Curse Grudge)
Critic Reviews for Ju-on: The Curse (Curse Grudge)
Audience Reviews for Ju-on: The Curse (Curse Grudge)
½
Japanese horror... Can make no sense, but I do love it! Some of this is genuinely creepy and horrible. I do have to laugh at the men being "paralysed" when that thing comes crawling out. I would have been on my feet and out of there in record time.
Nicki Marie
Super Reviewer
½
'Ju-On' is one of the most popular franchises in Japanese horror. I'm not a big fan of the JapHorror genre. Why am I writing this review then, you may ask? In June 16th, 2010, a rating of 'Ju-On 2: The Grudge' came to my ratings, even though I had never seen or even been remotely interested in the movie. Some asshole probably hacked in to my profile (and I'm not the only one, check out your ratings for the above mentioned date) and gave a random rating. I decided that I'll see the movie(s) at some point because I'm not gonna let some assfuck mess up my system! 'Ju-on' jumps around in time telling the mystery behind some eerie shit. Some guy killed his family in jealous rage. Why? Because of some eerie shit, I say! Some guy starts investigating the case and I'm sure that he regretted it instantly when shit starts to happen. I wasn't that interested in the movie. Maybe because I was kinda forced to see it. I know, not the right way to start seeing a movie. But I'll admit that there were a lot of scenes that made me uncomfortable. The Japs can surely do some creepy stuff. 'Ju-On' was ok and all but not "my cup of tea". It's slow paced and the straight-to-video look didn't max the feeling of it all. For those who wanna be scared and see some stuff that'll give you nightmares or keep your light on, 'Ju-on' is a sure bet.
I thought I was too old and cynical to be scared by a movie any more. I was wrong...It sent shivers down my spine in a way that hasn't happened since I was a child!
Ju-on: The Curse (Curse Grudge) Quotes
There are no approved quotes yet for this movie.