Steve Earle: Just an American Boy
(2003)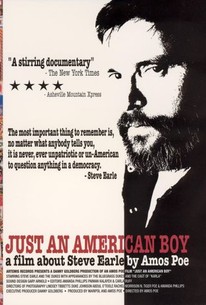 Movie Info
In the fall of 2002, singer, songwriter and political activist Steve Earle released an album of songs written in the wake of the terrorist attacks of September 11, 2001, entitled Jerusalem. One of its songs, "John Walker's Blues" -- written from the perspective of John Walker Lindh, a Muslim from America who was discovered fighting alongside Taliban forces -- triggered off a flurry of controversy, and Earle found himself having to defend his views, his patriotism, and his right to free speech in the press. Steve Earle: Just an American Boy is a documentary which follows Earle as he tours in support of the Jerusalem album, speaks to journalists about his songs and the looming war in Iraq, writes and directs his first play (Karla, a dramatization of the life and death of Karla Faye Tucker, the first woman ever to be executed by the Texas penal system), discusses his outspoken opposition to the death penalty, and, with his band, shows why he's become one of the most critically acclaimed singer/songwriters of his generation. Steve Earle: Just an American Boy was directed by Amos Poe, who previously helmed the groundbreaking document of New York's nascent punk rock scene, Blank Generation.
Rating:
NR
Genre:
,
Directed By:
In Theaters:
On DVD:
Runtime:
Studio:
Cowboy Pictures
Critic Reviews for Steve Earle: Just an American Boy
Audience Reviews for Steve Earle: Just an American Boy
Not overly ambitious in scope this film doesn't try to be definitive in any way but it does give a glimpse at Steve Earle during the Jerusalem tour and addressing the controversy over his ballad to John Walker Lindhn, 'John Walkers Blues. We also get to see Steve on stage and on the road with his son who has become an acclaimed artist in his own right. The video of the performances isn't exactly quality but it does include a powerful rendition of 'Billy Austin, Steve's anti death penalty song. More of a snapshot than a chronicle but enjoyable enough.
Steve Smith
I couldn't bear giving this less than 3 stars just because it is Steve Earle, and the guy's work has never been about "smooth and polished," but always about emotional intensity, uncompromising artistic integrity and thought provoking lyrics. That comes through here to some degree, but not much. I agree with James Paul, "good content cannot out-weigh a bad sound mix, poor editing and video effects that range from middling to terrible."
Michael Toler
Steve Earle: Just an American Boy Quotes
There are no approved quotes yet for this movie.