Just for the Hell of It
(1968)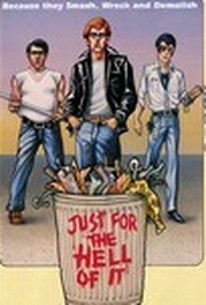 AUDIENCE SCORE
Critic Consensus: No consensus yet.
Movie Info
A violent gang of teenage miscreants terrorize their city with a rash of cruel practical jokes, vicious assaults, and random vandalism. When one of the hoods threatens an upstanding young man named Doug (Rodney Bedell), the gang's leader Dexter (Ray Sager) nixes the fight. Some time before, Doug came to Dexter's aid during a street brawl, so he feels that he owes him a break, but only one. Doug isn't intimidated by the gang and doesn't shrink from a confrontation when he catches them bullying a group of children. With Dexter's obligation met, the gang begins a campaign of harassment that targets Doug's girlfriend Jeanie (Agi Gyenes), and the violence quickly escalates beyond control.
Rating:
NR
Genre:
,
Directed By:
Runtime:
Critic Reviews for Just for the Hell of It
There are no critic reviews yet for Just for the Hell of It. Keep checking Rotten Tomatoes for updates!
Audience Reviews for Just for the Hell of It
½
Just for the Hell of it was recently brought to Hollywood again by Caidin and Quinn at the Grindhouse Film Festival in Tarantino's beautifully renovated New Beverly Cinema in Los Angeles (thanks for saving history Q). Call or email to find next showing of JFTHOI if you are in the neighborhood. Just for the Hell of It was an H.G.Lewis 'indie', 'low budget', 'Grind House' movie (before all those terms became vogue and people today acting like they made them up). It is a 'godfather of Grind House' production of non-stop miscreant havoc initiated by an dull inept 'leader' Dexter (Sager/ Smash Cut w/Sasha Grey&Lewis himself), carried out after being twisted into truly demented evil by Denny (White/Capitol Records,Fantasy)and his minions, on everyone in south Florida and specifically Doug (Bedell/??) and Jeanne (Gynes/??), with the assistance of perky bad girl Bitsy (Nobel/ She Devils on Wheels). White, the 'most vicious of the gang' and Bitsy die like a real bad boy and girl should, in a Motorcycle accident after a chase scene that needed more than $32.50 on production and editing. However it was going directly to Drive-ins and quality was never a Lewis quality. It's one of HGL's four 'Summer of Love' films where someone, generally a defenseless, sobbing and franticly screaming woman, is NOT hacked up alive, eaten and then laughed at...probably because he did not write it and probably why NETFLIX rents it. His genre repertoire includes exploitation, hiksploitation, sexploitation, destuctploition, etc. so don't to try to cubbyhole HGL and ya can't see just one. Considering other genres Lewis has worked on, the story lines and poor performances of today's films in general, I am thinking this is worth the 10 bucks to keep it around. It has been teamed up on a Something weird Video DVD with Blast-off Girls. I never saw the second film as the duncemeister Sager (who's still with Lewis) and 'Satan' White (whos tunes were FITTINGLY released with Charlie Manson tunes, sung by the Beach Boys?????, on EMI) are in that one also. I did not want to see Sager say "duh" again nor White throwing another baby in a garbage can or carving another rat on someone, so beware. FFI: Twenty something years later in Hollywood, Lou Ferrigno had started a fight with White about who was Denny Fortune in Just For the Hell of it, him or White. In his own inimitable fashion and in the middle of Sunset Blvd, Johnny Legend (the REAL one) tries to get to the truth and calm the two psychos down in Something Weird Video's Sleazemania on Parade w/Gene Autry,Steve Allen, Angie Dickenson and Mr T.
Alan Smithee
Discussion Forum
Discuss Just for the Hell of It on our Movie forum!
News & Features