Just, Melvin: Just Evil
(2000)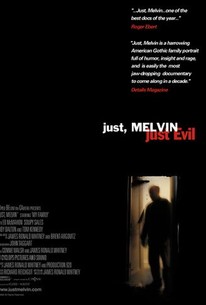 Movie Info
James Ronald Whitney directs this searing documentary of his family's complex history with alcoholism and incest that spans three generations. Soon after becoming betrothed to James' alcoholic grandmother Fay, Melvin Just started molesting Fay's three daughters from another marriage -- including James' mother Anne. The two daughters that Fay and Melvin begot started getting abused when they were toddlers. Later, Melvin's second marriage to Venice brought a fresh batch of victims into his clutches, including Pambi, who was handicapped since birth, and Bobbie, who was molested while still in diapers. Melvin was not the only incestuous parental figure in this sad tale -- Venice's second husband began molesting his children after their mother was declared an unfit by the courts, while the director reveals that he was abused by his Uncle Jim. As the film progresses, James uncovers the murder of Josephine Segal, a retired nurse who discovered Melvin in bed with one of his step-children. Melvin was eventually convicted of 12 counts of child molestation, though in an interview in his retirement home, he denies all wrong-doing. Meanwhile, the film charts the devastating legacy of Melvin in the wrecked lives of his children and step-children, which are marked with alcoholism, drug abuse, prostitution, and homelessness. This film was screened at the 2000 Berlin Film Festival.
Rating:
NR
Genre:
,
Directed By:
Written By:
Runtime:
Studio:
Production 920
Critic Reviews for Just, Melvin: Just Evil
Audience Reviews for Just, Melvin: Just Evil
I couldn't turn away from this heart-wrenching story. A jail sentence isn't going to fix decades worth of abuse. The mothers (who were well-aware of the abuse, but for some reason disregarded it--As a mother of 4 daughters, I would kill for each one of them; I would not put them in the position if there was a wisp of doubt or suspicion!!!) should have been charged, as they are just as "guilty", if not more-so!
CHERYL VANDERMYDE
Raw, honest, heartbreaking documentary that shows the damage sexual abuse creates for a lifetime. It is no wonder addiction and suicide issues haveoverwhelmed this family.
Zandra Ellis
Just, Melvin: Just Evil Quotes
There are no approved quotes yet for this movie.