Just Like A Woman
(2013)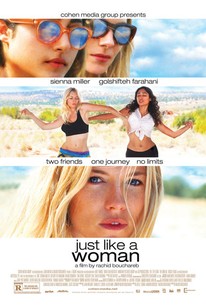 Movie Info
Mona, 26, an immigrant from North Africa, runs her in-laws' mini market in Chicago. She's married to Mourad, a man who can't stand up to his authoritarian mother. Mona is harassed by her mother-in-law because after five years of marriage, she hasn't be able to get pregnant, something that's considered a shame and a taboo in her culture. Marilyn, 29, is a receptionist at a computer repair company. Her marriage with Harvey is on the ropes. The only thing in her life that makes her happy is her belly dance class, a passion shared by Mona. Dancing at family gatherings lifts her spirits up and makes her forget the misery of her daily life. Marilyn shops at Mona's mini-market. They've become friends. One morning, Mona's mother-in-law is found dead in her bed. Mona realizes that she mixed the wrong dose while preparing her medicine. Realizing that she might be accused of murder, Mona runs away and flees Chicago by bus. Marilyn loses her job because of the recession. When she gets home, she finds out that her husband is cheating on her. With nothing left to lose, Mona decides to go to Santa Fe to enter a contest hoping to join a famous belly dance company. Mona and Marilyn run into each other on a rest area on the side of a highway. They decide to continue the trip together. They cross the USA, pitching their tent in trailer parks and in the middle of the desert. They earn some cash belly-dancing together in restaurants and bars. Back in Chicago, Mona is considered a fugitive she's wanted for the murder of her mother-in-law. Harvey asks the police to look for Marilyn who disappeared without leaving a trace. Will Marilyn succeed in joining the belly dance company? How long will Mona be able to keep her secret from Marilyn? And how long will she be able to escape the law?
Rating:
R (for language and a scene of sexuality)
Genre:
,
Directed By:
Written By:
In Theaters:
On DVD:
Runtime:
Studio:
Critic Reviews for Just Like A Woman
Audience Reviews for Just Like A Woman
At first glance you'd think this was about 2 very sexy women belly dancing but there's more to it than that. Sienna Miller plays a woman named Marilyn who's interested in belly dancing. After being fired from her job and discovering that her husband is cheating on her, she leaves with her friend Mona to go to Santa Fe to audition for a dance company. Mona is a North African immigrant who leaves her family after accidentally poisoning her mother-in-law. Marilyn is unaware of this at first. Together they drive from Chicago to Santa Fe and have a series of adventures. It reminded me a little bit like the movie Thelma and Louise but with a happy ending.
King Lam
½
Twenty-three years ago (gulp!) two new names were engraved upon the minds/psyches of American theater audiences across the country that would never be forgotten. Those two names: Thelma and Louise. The only real similarity between T&L and Just Like a Woman is that the story features two women driving cross country in a convertible as they try to outrun a mistake they do not know how to rectify. T&L is a modern classic ... and should be seen. Just Like a Woman is not a classic nor will it ever be one ... and it isn't one I would be overly keen to recommend either as I doubt either woman will be nominated for an Oscar like both Thelma and Louise were! Sienna Miller (Factory Girl, Layer Cake) stars as Marilyn, a woman who decides to finally give in to temptation and enter a belly dance contest ... after she is let go from her job in Chicago and has to no longer be responsible-yet-unhappy. Before even leaving the city, Marilyn finds herself in the company of Mona -- a meek North African immigrant she is acquainted with - who needs to get out of the city. The two ladies come from different backgrounds but their common bonds and womanhood bring them closer together. As Mona's past begins to catch up with them, can their new friendship endure and will Marilyn's dream remain unattainable? The film is hokey and melodramatic but I didn't hate it when I watched it even though it was quite predictable ... although I will spoil the ending: there is no cliff!!
Thomas Williams
Just Like A Woman Quotes
There are no approved quotes yet for this movie.
Discussion Forum
Discuss Just Like A Woman on our Movie forum!