Just Looking
(1999)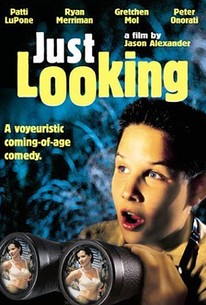 Movie Info
A wacky screwball sex comedy for the kids and grandpa too? Seinfeld's Jason Alexander makes his directorial debut with this gentle but funny coming-of-age story set in 1955 about Lenny (Ryan Merriman), a 14-year-old from the Bronx who is dedicated to witnessing a copulating couple. His early attempts at spying on his mom and her new corpulent husband Polinsky are thwarted when he is sent to live with his aunt Norma and uncle Phil in Queens for the summer. He soon learns that Norma is pregnant. No sex. All looks lost until he meets Hedy (Gretchen Mol), a fetching though lovelorn night nurse. Lenny also befriends the equally randy John, who informs him that he has started a sex club with a couple of neighborhood gals. Though the club is all talk, they all discuss the mechanics of coital engagement with language that is equal parts gutter and sex-ed. Meanwhile, as Lenny spies on Hedy, he inadvertently befriends her. Together they muse about the complexities of love and wistfully remember their respective dead fathers. Just Looking is a sweet-minded film about the great mystery of the teenaged years.
Critic Reviews for Just Looking
Audience Reviews for Just Looking
½
Gretchen Mol is intriguing.
Byron Brubaker
Super Reviewer
½
I really enjoyed this movie. I was a good coming of age story and the acting was really good. Just a cute movie to see.
Tiffany R
[size=5][b]Ratatouille[/b][/size] Directed by: Brad Bird [img]http://www.llopisanimation.com/blog/images/ratatouilleCrep.jpg[/img] This is one of those "Is the glass half-full, or half-empty?" sort of movies. On one hand, it's charming, funny, inventive, and definately a cut above most animated films. On the other hand, it's definately in the lower half of Pixar movies, definately inferior to their last two excellent efforts, Cars and The Incredibles. Perhaps I just wasn't as able to get in to the ethos of the film in the same way I was in Cars or The Incredibles, but while I consistently enjoyed everything that was going on in the film, I just didn't feel any connection more then amusement to what was going on. I loved individual scenes, and definately had a good time watching the movie, but unlike Cars or The Incredibles, I didn't have the urge to see it again right away. The premise is cute, and fairly well executed, about a rat who likes to cook and helps a garbage boy in the resturaunt founded by his hero to become the top cook with his help. Needless to say, someone's gonna find out a rat is cooking the food, and the fit will hit the shan. Funny, charming, fun, just not as memorable as it should be, nor one of Pixar's best efforts. [size=4][i]7.5[/i][/size] [size=5][b]Live Free or Die Hard[/b][/size] Directed by: Len Wiseman [img]http://braincrack.files.wordpress.com/2007/07/live-free-or-die-hard_2.jpg[/img] Hmm, do you like your belivability merely stretched? Or mangled? Some of the stunts in this movie rival Vin Diesel outrunning an avalanch on his snowboard or jumping over a two story building on a motorcycle and landing without a scratch in their sheer rediculousness, especially the one where a truck, half blown up, is trying to drive up a broken highway while somehow managing to take out a jet...don't ask...but it's all in good fun. The series basically replays the formula of McClane's bad attitude and a bunch of bad guys, this time playing out over several states, namely Jersey, West Virginia, Maryland, and DC, as opposed to several stories in the first film. It's not nearly as good as the first one, but it's at least in the same league as the other two sequels. Hardly great, but certainly fun. I liked the Kevin Smith cameo and some of McClane's lines continued to be great. [size=4][i]7.0[/i][/size] [size=5][b]Just Looking[/b][/size] Directed by: Jason Alexander [img]http://ecx.images-amazon.com/images/I/513C5JAFC4L._AA240_.jpg[/img] This film starts out kind of lame and predictable, if not unenjoyable...then turns in to something a little more that had more potential then it delivered. Anyhow, Jason Alexander of Seinfeld (and, I suppose, Shallow Hal) fame directs this movie about a 13 year-old kid who's got sex on the brain, and is determine to see two people having sex over summer vaccation. The resutls, while executed alright, are predictable...up to the last twenty minutes or so. The last twenty minutes or so show a lot more depth and maturity then the film had up to that point...kind of being similar to The Last American Virgin or a slapstick Summer of '42 kind of thing, minus the actual sex. Anyhow, Gretchen Mol is rediculously attractive as usual, and the film never fails to entertain. Still, while I enjoyed it enough to give it a positive rating, it's a film that had more potential then actual delivery. [size=4][i]6.5[/i][/size] [size=4][b]The Russia House[/b][/size] Directed by: Fred Schepisi [img]http://www.boomerangshop.com/dvdcover/ImageWeb/RussiaHouseThe199038041_f.jpg[/img] Good grief, who could have thought that a movie starring Sean Connery and Michelle Pfeiffer could be so incredibly [i]boring[/i]. This film is easily one of the worst paced films I've ever seen. It's not that nothing happens, its just that it happens in such a way that it always feels disjointed, and never involves you in the story. The music is good, but it's intrusive and off. The story is...alright (which I mean, it's well constructed, but hamfisted), but it's told in such a way that you really don't care much. I mostly just kept hoping Pfeiffer or Connery would say something worth listening to. Occasionally they did, but I'd have been better off watching another film starring one of them. [size=4][i]3.5[/i][/size]
Cliff Smith
Just Looking Quotes
| | |
| --- | --- |
| Hedy: | Let me see if you slice ham as well as you do bologna. |
| | |
| --- | --- |
| Hedy: | Let me see if you slice ham as well as you do bologna. |
| | |
| --- | --- |
| Lenny: | I don't think women in the Bronx have periods. |
| | |
| --- | --- |
| Lenny: | My father always said, make the best of what you got. |
Discussion Forum
Discuss Just Looking on our Movie forum!