Justice League - Secret Origins
(2001)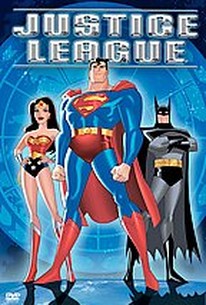 AUDIENCE SCORE
Critic Consensus: No consensus yet.
Audience Reviews for Justice League - Secret Origins
If you are looking to start a fond attraction to Justice League, or are just looking for something to pass a quick hour, this is definitely your movie. 'Justice League: Secret Origins' is one of those JL movies you simply have to see before you start watching the series. While it somewhat is a prequel, the story behind it does not simply submit itself to being a prequel only. One of my favorite aspects of this movie though has to be the coming together and the creation of the Justice League, so in essence, this movie helps to spark the entire animated series. ~Minor spoilers included.~ 'SO' more than any of the other Justice League movies is probably the most geared towards kids, fun, and comic book mayhem. Now this does not take away from the appeal of the movie itself, but it does help to realize that this one, unlike the others may be more childish in nature. One that note though you can be sure that 'SO' will absolutely live up to the reputation of Justice League movies being good wholesome fun. So what can you expect from this one that makes it different from the others? The formation of the Justice League is a primary theme in this movie, and it truly takes a good secondary seat to the movieâ(TM)s plot line itself. Another big plus to this movie is the short run time which makes it an enjoyable and easy going movie to sit down and get into. Whether you are looking for a little comic book fun, or are trying to start your journey through the Justice League franchise this is definitely a good starting point and a must see. 5 Martian Stars out of 5!
Geoff Travagline
½
This version of the JLA is pretty good even if this first movie borrows heavily from War Of The Worlds, Invasion of the Body Snatchers, ID4, JLA: The New Frontier & other sci-fi movies. It's still a lot of fun although some of the cartoon violence is very intense and is probably not a good idea for the under 8 crowd. This is not your Daddy's Superfriends.
Bobby Diablo
½
[font=Times New Roman][size=3][color=#000000]This is a review for the whole first season of Justice League since RT is stupid and doesn't have it in the database. If you haven't figured this out from some of my past reviews, I'm a giant comic book freak. Love them. I'm also a huge fan of Paul Dini and Bruce Timm's past forays into DC animation with the Batman and Superman shows. I tuned in for the premiere of Justice League back in 2001 and was underwhelmed. It just seemed off for me, and I never gave the show another chance. Well, that was stupid of me. Justice League does a brilliant job of achieving the only thing the previous DC animated series hadn't: it feels like a comic book. Story arcs spanning multiple episodes, large casts, continuity, character development, and over-the-top world-threatening action. JL achieves everything it set out to, while experiencing a few birthing pains along the way. The dialogue in some of the episodes (particularly the premiere and Wonder Woman-centric arcs) is not up to the level of the previous shows. Also, and to give them credit they flat-out admit this; they have Superman get the living snot knocked out of him in every episode in which he appears. Now I'm no Superfan. I recognize his importance in the DC universe and whatnot, but he doesn't do much for me. However, he is immensely powerful, so it seems a bit off that every person the JL runs across has the ability to reduce Superman to a quivering heap of inactivity. But the negatives are far outweighed by getting to see the entirety of the DC universe in a way we'll never see in a live action movie. We get to see Oa, the Manhunters, and the Green Lantern Corps. Mongul and Warworld! They manage to make the Aquaman arc one of the best of the season. We see Lex Luthor descend from a legitimate businessman into a League-caliber super villain. The Injustice Gang WITH THE JOKER! All of these great comic fan moments just make for a fantastic collection, and I am assured by those who followed the show that the best is yet to come. Great animation, some really fun extras, and 26 episodes of DC Universe animation make for a very promising first season for the show. Can't wait for season two to be released![/color][/size][/font]
David Yaeger
Justice League - Secret Origins Quotes
There are no approved quotes yet for this movie.
Discussion Forum
Discuss Justice League - Secret Origins on our Movie forum!