Justin and the Knights of Valour
(2013)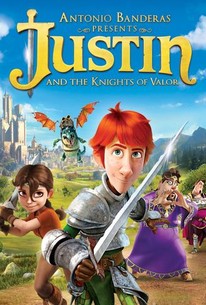 Justin and the Knights of Valour Videos
Justin and the Knights of Valour Photos
Movie Info
Sweet-natured Justin dreams of becoming a Knight just like his legendary Grandfather, Sir Roland. However Knights have been banished from the Kingdom by The Queen and replaced by Lawyers and their strict rules. But after an inspiring visit to his beloved Gran, Justin's mission becomes clear. He bids farewell to his sweetheart Lara and embarks on the ultimate quest: to train to become a Knight. Along the way he meets the beautiful, but feisty, Talia a quirky wizard called Melquiades; the handsome, but misguided, Sir Clorex and upon reaching the Tower of Wisdom is mentored by the three wise monks; Blucher, Legantir and Braulio. However Justin soon learns that banished Knight Sir Heraclio is putting together an army, with his faithful sidekick Sota, to overthrow The Queen and take the Kingdom. Justin must quickly rise to the challenge and find the courage to become the Knight he truly wishes to be. Join the unlikeliest of heroes and his friends on the journey of a lifetime that promises nail biting adventure, oodles of magic, heaps of fun, oh and a flame throwing toothless crocodile...
Rating:
PG (for mild action and some rude humor)
Genre:
, , ,
Directed By:
Written By:
On DVD:
Runtime:
Studio:
Cast
Critic Reviews for Justin and the Knights of Valour
Audience Reviews for Justin and the Knights of Valour
We're going to have to impound the cat. Justin has aspirations to become a knight but isn't getting where he's going in his home town so he embarks on a mission to become a knight. He meets a series of friends on the mission also trying to find themselves. The young warriors come together to build characters and their legends. "This was a big mistake." Manuel Sicilia, director of The Missing Lynx, delivers Justin and the Knights of Valor and his second major motion picture. The storyline for this picture is average but contains interesting characters and sub plots. The animation style is good and the voices includes Antonio Banderas, Freddie Highmore, James Cosmo, Mark Strong, Alfred Molina, and Michael Culkin. "Your destiny isn't here." I came across this on Netflix and added it to my queue to watch with my daughter. We watched it and it was a poor man's How to Train a Dragon. I did like it and thought it was okay but a just above average addition to the genre. "This is only a stone." Grade: C+
Kevin Robbins
Minor effort about a kid, who's granddad was a big deal of a knight in shining armor, aspiring to be the same. As with many animated works before, its all looks but precious little scripting and you'll be checking for possible dirt under your fingernails before the end of it.
Kevin M. Williams
Super Reviewer
This has nothing to do with this film, since it was apparently released in 2013, but this year has been absolutely anemic for quality animated films. 2013 was also pretty bad, but somehow 2014 has been worse. Then again I guess you did have How to Train your Dragon 2 this year, which I've not seen...but that's about it. But I digress, this film didn't really have much going for it. The animation is fine, but it, obviously, lacks a certain level of polish and creativity seen in the top tier Pixar, or even the best Dreamworks, films. This is far more forgivable when you consider the fact that this movie probably doesn't even have NEARLY as close to the same budget as Pixar, or Dreamworks, films have. But the film still looks a little too bland for my tastes. Because of that bland animation, a lot of the scenes lack the style and life that this movie so desperately is searching for. A perfect analogy would be a cute girl with dead eyes. There's no charisma, or life, in her eyes. That's what this movie is. Except the animation isn't really "cute", that's just the closest I could come to a perfect analogy. The movie isn't really funny, nor does it even really try. At the very least it doesn't try to appeal to anyone above the 8-10 year old demographic. And even then, I think some kids might be amused, but they won't exactly be losing their minds over this film. The 'funniest' character would have to be the effeminate Sota brother. But even then this character provides nothing more than a few chuckles. I suppose Antonio Banderas' character as this womanizing coward who wants to pretend to be a knight without any of the responsibility is also fairly amusing. Also got a few slight chuckles with this character, but nothing worth noting. The story is fairly standard kids' stuff about following your dreams and shit like that. It's not particularly good because there really didn't seem to be any effort put into it, it's shamelessly borrowing from other films to create its "own" story. The voice acting is uninspired, clearly just a paycheck film for most of those involved. I doubt this would happen, but it sounds so uninspired that it comes across as if some of the actors were followed around with tape recorders instead of actually going into the studio to record their lines. That's a new level of uninspired. I suppose the voice acting is serviceable enough, but it's another part of the film that simply lags behind the best animated films. It's almost like Usain Bolt running against a man with no legs. It's not like it's really fair. With that said, I didn't think this film was any good. It didn't make my brain blow up with how bad it was. Even though I gave this film a lower rating, I wouldn't say that this film is worse than Cars 2 or Shrek The Third. They're not even in the same league of badness. While this film did absolutely nothing well, I could actually tolerate this. I could get through it without losing my mind. Cars 2 and Shrek The Third were so dreadful that I would prefer to be tortured by the CIA than to watch those two films in a row. Of course, I'm using hyperbole to prove my point. This film isn't even close to that. The reason those two got a better rating is because of better animation and voice acting. I'm on quite a roll with the reviews lately. Out of the last 6 films I've reviewed, this one included, only one, The Rover, has gotten a positive review. It is what it is I guess. This isn't particularly good and there's no real reason to watch this unless you're the cast's and crew's families.
Jesse Ortega
Super Reviewer
Discussion Forum
Discuss Justin and the Knights of Valour on our Movie forum!
News & Features