K-9000
(1991)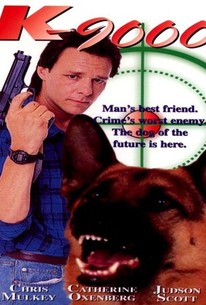 AUDIENCE SCORE
Critic Consensus: No consensus yet.
Movie Info
A policeman and a lady scientist team up to recover her latest creation--a cybernetic, crime-fighting dog--from the crooks who made off with it.
Rating:
PG
Genre:
, ,
Directed By:
Written By:
In Theaters:
On DVD:
Runtime:
Studio:
Fries Home Video
Critic Reviews for K-9000
There are no critic reviews yet for K-9000. Keep checking Rotten Tomatoes for updates!
Audience Reviews for K-9000
½
British research has developed a dog (K-9000) that assists humans in this suspense action film. American non-tech detective who swears machines hate him stars to defeat a criminal known as Anton Zeiss, an ex-intelligence officer. He isn't infallible either, but this is refreshingly realistic. A bonus and elevating element is the soundtrack in this little known film, none other than composer Jan Hammer of Miami Vice fame. Hammer was responsible for much of the instrumentals in Miami Vice. His soundtrack helps the film as many scenes are impressive. The title is not too clever. K-9 or "ca-nine" (get it?), stands for a super dog. This particular dog is a 9000 series one, capable of knowing what its master thinks, needs, and even talks with its owner. A computer in a dog developed by the C.A.T.C.H. project. Similar to the television series Knightrider, this is not a car that thinks, its a German shepard. Sounds crazy and terribly implausible, but this dog is introduced midway through the film in a plausable way. The comic relief ensues as his detective master is not real bright himself. Recommended for sci-fi dog lovers, its a combination serious crime drama and then becomes quite a charming canine tail, uh tale. Don't give up on it too soon. Directed by Kim Manners. With Chris Mulkey, Catherine Oxenberg, Dennis Haysbert, Dana Gladstone. for the Spanish trailer, copy and paste this into your address box, its better than nothing: http://www.youtube.com/watch?v=1jkfTDLTbRs Cast Dana Gladstone Dennis Haysbert Jerry Houser Anne Haney Chris Mulkey Catherine Oxenberg Judson Scott Crew Casting Director: Pamela Basker Casting Director: Fern Champion Executive Producer: Steven E. De Souza Teleplay by: Steven E. De Souza Set Decorator : Ellen Garvey Editor: J.P. Farrell Production Designer: Elliot Gilbert Producer: Rickley J. Dumm Composer: Jan Hammer (of Miami Vice fame) Director: Kim Manners Co-Producer : Michael Part Teleplay by: Michael Part Cinematographer: Frank Raymond Costume Designer: Judy B. Swartz
monsieur rick
The birth of the mullet??? This movie is all business in the front but one big, huge party in the back. Not one of those nice, fun parties you dream of though - this is one of those awful parties that leave you alone in a room swilling large amounts of vodka in a desperate effort to forget everything that happened. This movie is The Bionic Dog meets Dr. Who meets 48 Hours with maybe some of the cheese from Candy Man tossed in. It's soooo awful, with 2nd rate supporting actors all in lead roles. I actually started laughing in an opening scene with terrorists in a van all checking and loading their weapons - Leslie Nielsen HAD to be wandering around somewhere in the background guiding that scene. It was patently ridiculous and I kept waiting for the camera to pan out where we find a Kadhafi look alike loading a rocket propelled grenade launcher. Toss on top of that the "Won't someone PLEASE think about the KITTIES?!" lady and you have a built in parody of a movie still in progress. The soundtrack does nothing to detract from this either - but it is probably the only single good thing about the entire viewing experience. I don't know what I was expected from a 1989 movie about a technology-challenged cop ("Machines don't like me") chasing terrorists after a cyborg doggie (K-9000? K-9 times 1000? 1000 what??) but I was certainly left very, very wanting. Had Tom Baker and K-9 shown up at this casting call, they might at least have had a cheese fest worth hanging out for. If you have the time and a choice between watching this movie and chinese water torture - opt for the torture. This movie is worse than torture.
Dork Hammell
K-9000 Quotes
There are no approved quotes yet for this movie.
Discussion Forum
Discuss K-9000 on our Movie forum!