Kaena: The Prophecy
(2004)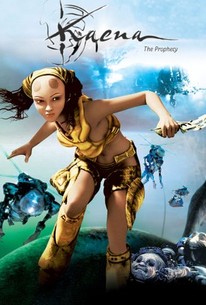 Kaena: The Prophecy Videos
Kaena: The Prophecy Photos
Movie Info
Billed as the first European 3-D CGI feature-length film, Kaena: The Prophecy revolves around a mammoth tree that rises 100 miles from the planet's surface and provides shelter and sustenance for a variety of different races and species. Referred to as Axis, the tree has been losing its sap at a rate alarming enough to threaten the well-being of some of its inhabitants. Determined to get to the root of the disappearing sap is Kaena (Kirsten Dunst), a rambunctious teenager who leaves her village against the wishes of its elders. She encounters the mysterious Selenites along the way; led by an insidious queen (Anjelica Huston), the Selenites have resorted to enslaving another race in order to prevent the tree's decline into death. Directed by Pascal Pinon and Chris Delaporte, Kaena: The Prophecy began filming in 1999 on a budget of 26 million dollars, and has been described as having merged elements from Shrek and Final Fantasy.
Rating:
PG-13 (for sensuality and some frightening images)
Genre:
, , , ,
Directed By:
Written By:
In Theaters:
On DVD:
Runtime:
Studio:
News & Interviews for Kaena: The Prophecy
Critic Reviews for Kaena: The Prophecy
Audience Reviews for Kaena: The Prophecy
One line summary: Relentlessly ugly and poor animation meets nearly opaque script. -------------------------- The picture starts near a village high on a huge vine called Axis. One resident is Kaena, a young adult woman who likes to adventure, while the rest of the village is bound to harvesting sap and offering it to the gods. For sassing the priest, she is exiled. She is captured by an unfamiliar group that is very interested in her because she has curiosity, and will venture beyond the village. Opaz and his people have reconstructed a star ship to return to their home planet. Kaena sees visions of a repository of knowledge of Opaz' people. After various machinations, the repository opens itself to Kaena, with conflict all around her. Will the disputes among the groups be resolved? ------Scores------- Art/Animation: 2/10 There is seriously too much negative space is the artwork for most of the scenes, rather like the more disgusting parts of the Alien series, or most of H. R. Giger's paintings or sculptures. It is mostly dark, dull, depressing, surreal, and hideous. Other parts of the film are overly bright and washed out. Neither of these habits is attractive or 'eye candy' as I have seen this monstrosity described so often. Here and there I see serious frame jumps, the kind one sees in a flip book. Sound: 2/10 Amazingly bad leveling. Keep your hand near the volume control. This detracted seriously from the voice acting. Acting: 4/10 Richard Harris and Keith David were fine; Kirsten Dunst was much better than I expected. The queen and so many others were just terrible. Screenplay: 3/10 Next to opaque. Exposition of motivations was a distant, never achieved goal.
Ed Collins
The film was disjointed. I really wanted to like it, but it just felt flat.
Marion Ravenwood
Super Reviewer
½
I found this a better-than-average science-fiction cartoon. Kaena figures out why her world is dying. You need to watch this movie twice to figure out which race is which, and how they are all intertwined.
Kaena: The Prophecy Quotes
There are no approved quotes yet for this movie.
Discussion Forum
Discuss Kaena: The Prophecy on our Movie forum!