Kai Po Che!
(2013)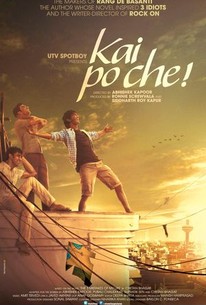 Movie Info
Synopsis: Best friends Ishaan, Omi and Govind - young, ambitious and restless - are trying to make a mark in the India of the early 2000's. These are exciting times - a new millennium has just dawned, India's a nuclear power and ostensibly shining - a perfect place for the 3 Ahmedabad boys to start a business that could be their ticket to fame and riches. In a country where cricket is religion, they hit upon a brilliant plan - to start a training academy that could produce India's next sporting superstars! What follows is without doubt the greatest adventure of their lives, as they attempt to navigate the big hurdles in the path of fulfilling their dreams. (c) UTV
Rating:
NR
Genre:
Directed By:
Written By:
In Theaters:
Box Office:
$1,122,527.00
Runtime:
Studio:
Critic Reviews for Kai Po Che!
Audience Reviews for Kai Po Che!
I haven't seen many Bollywood movies, but I would recommend this one. The story weaves together several connected threads. It would have been easy for the film to get lost in the attempt, but it didn't. It is a fine movie with a heart (if not a Hollywood-style happy ending).
Iggy Autry
½
A friendship drama that would appeal more to the Indian audience rather than that over the world at large. Maybe Chetan Bhagat will have now realized that writing a book is not the same as transforming it into a good screenplay. 3 Idiots was based on his novel, but it's its screenplay that made it so popular and likable. Kai Po Che! is just good for one-time watch; a passable flick. The overdose of cliches makes it further less engaging. There's nothing about it that takes it to the level of an unforgettable film. The performances, specifically that of Sushant Singh Rajput, is commendable. If only the story was so interesting.
familiar stranger
Super Reviewer
½
Sitting alone in a cavernous theatre, feeling a lot like the sole survivor of the apocalypse; questioning why I fervently hope to ignite the Western audience to the Bollywood genre; possibly, it is time to give up the battle that has not even brushed the pyrrhic stage. "Kai Po Che" (A reference to kite flying; a winner "cuts" the string of an opponent's kite), takes place in Ahmedabad, India, a kite flying capital of the world; the film is a metaphor for life, its vicissitudes, destruction of dreams, friendship. Three young men in 2001 actualize their vision of starting a training school for future cricketers; an addictive sport throughout the commonwealth and a prevalent theme in Bollywood movies ("Laagan" 2001 being the most explanatory). This is a fine film for neophytes; devoid of the sickening silliness, pervasive in traditional Bollywood fare; a love affair of genuine proportions and complexities; devastating consequences of the catastrophic Gujarat earthquake in 2001; Hindu/Muslim riots in 2002, resulting in massive carnage and loss of life. But the heart of the film pulsates with the lives/ issues of complex, talented, aspiring, idealistic men; young men coming to terms with the "sticky wickets" perpetually blocking their achievements; roadblocks of monumental proportions to surmount or crumble beneath; lacking obsequious platitudes, "Kai Po Che", embraces reality and scores a winning goal! THREE & 1/2 STARS!!! For Now.........Peneflix
Peneflix Movie Reviews
Kai Po Che! Quotes
There are no approved quotes yet for this movie.
Discussion Forum
Discuss Kai Po Che! on our Movie forum!