Kakashi (Scarecrow)
(2001)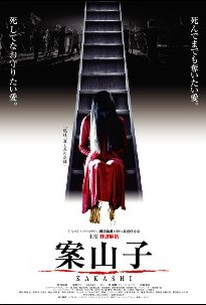 AUDIENCE SCORE
Critic Consensus: No consensus yet.
Movie Info
The search for her vanished brother Tsuyoshi leads Kaoru to the lonesome village Kozukata in the japanese back-land. The locals react repelling to her, which the exception of the chinese girl Sally. As her car breaks down Kaoru is trapped in the village; will she have to repay for something she has done in the past?
Critic Reviews for Kakashi (Scarecrow)
All Critics (1) | Fresh (0) | Rotten (1)
Kakashi is a self-contained dreamscape of sorts, with sporadic moments of fear punctuating an otherwise dull milieu made up of wandering and miscommunication.

Not Coming to a Theater Near You
Audience Reviews for Kakashi (Scarecrow)
Horror is a genre that shows up on Norio Tsuruta's filmography quite frequently and Kakashi is a Japanese horror with a little bit of a different flavor.
The plot does have some meat to it, but it doesn't come out until the ending of this brief 85 minute film. Actually, brief may not be the correct word because this feels much longer than that. After a quick opening of simple paragraphs to explain the subject at hand and an out of the blue scream, the rest of the film creeps along at a slow pace.
A good portion of the first half is pretty uneventful in the way of scares, however the setting and the slow pace create this really ominous and suspenseful atmosphere, which is a plus. Unfortunately, the ending isn't that great and it leaves an undefined feeling.
This film is all Maho Nonami. She is all over this picture and is in nearly every scene. Everyone else in this film lacks severe airtime, including Kou Shibasaki, who is the second biggest character with an integral role in the story. At least she is successfully eerie. Hong Kong actress, Grace Yip, also makes an appearance.
Kakashi isn't for everyone, including Japanese horror fans, however it is scary in an atmospheric sort of way. If this sounds like it is worth a watch, then go ahead.
½
A film that is obviously influenced from the great horror classic "The Wicker Man". A girl searches for her brother and ends up in a remote village where they seem to worship scarecrows. The plot is slow and is always on simmer, never really coming to a boil, but the atmosphere is dark, omnibus, and foreboding, the direction is hypnotic, and there a moments of genuine unease and tension. The film relies more on psychological thrills than visceral ones, making it all the better.
David Schwenker
½
I love Kou Shibasaki, but I didn't really enjoy this movie. The story was more original than most, but it lacked depth of plot.
Melissa Cito
Kakashi (Scarecrow) Quotes
There are no approved quotes yet for this movie.
Discussion Forum
Discuss Kakashi (Scarecrow) on our Movie forum!