Kamen Rider First
(2005)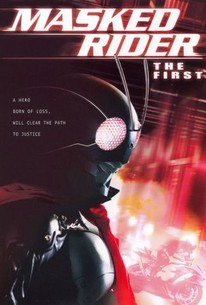 AUDIENCE SCORE
Critic Consensus: No consensus yet.
Movie Info
Transformed into a locust-human hybrid by a nefarious organization known only as Shocker, a once-normal man makes it his mission to bring down the group that destroyed his life once and for all. Hongo was just your typical Japanese citizen until Shocker instilled him with superhuman powers and destroyed his life in the process. These days Hongo wants nothing more than to make the mysterious Shocker group pay for their abominable crime against humanity. When the heavies at Shocker learn that their lives are in danger, they create an exact replica of Hongo with hopes that the powerful doppelganger can thwart his vengeful plan. Now, as Hongo sets out to take down Shocker, the one opponent with the power to destroy him rises to wage an epic battle that could bring all of Tokyo crumbling to the ground.
Critic Reviews for Kamen Rider First
There are no critic reviews yet for Kamen Rider First. Keep checking Rotten Tomatoes for updates!
Audience Reviews for Kamen Rider First
½
Don't be ashamed if you think about the Power Rangers when seeing this. In a sense, this is what this film is sort of like. A more mature Power Rangers.
This film runs at 90 minutes and the pace is pretty quick. It makes use of fade ins and fade outs to jump from sequence to sequence. There are a ton of them. While a quick pace can keep the viewer from getting bored, it sometimes moves too fast as to not give enough information. There are parts in this film which need more explanation and there is definitely room for it to be put in. Fortunately, this film is still easy to pick up and follow.
The action comes in bunches and the choreography isn't too bad. Once again, just think of the Power Rangers. For those people that are just interesting in the action you may be disappointed. I did say that the action comes in bunches, but those bunches are not enough. Definitely more action is needed. At least the last fight is the highlight of the film, which it should be.
The acting is OK, but there is room for improvement. The lead, played by Masaya Kikawada is probably the most disappointing. No strong facial expressions at all. Just a serious face in all situations. The better acting actually comes from Eiji Wentz and Ryoko Kobayashi, who are part of the side story in this film. They are both the younger actors as well. Go figure.
Unless you are a fan of the Kamen Rider, this movie may not be so great. Average at best. Give this a watch if you are in the mood for a quick paced action adventure.
Kamen Rider First Quotes
There are no approved quotes yet for this movie.