Kaminey
(2009)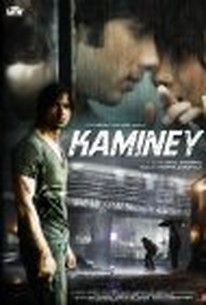 AUDIENCE SCORE
Critic Consensus: No consensus yet.
Movie Info
Estranged twins Charlie and Guddu find their lives converging in ways that nether ever thought possible after being dragged into the dangerous criminal underworld of vicious gangsters and corrupt politicians. Now, the two brothers who never saw eye to eye gradually begin to realize that when times get tough, family is all you've got. ~ Jason Buchanan, Rovi
Rating:
NR
Genre:
, , , , ,
Directed By:
In Theaters:
On DVD:
Runtime:
Studio:
UTV Communications
Critic Reviews for Kaminey
There are no critic reviews yet for Kaminey. Keep checking Rotten Tomatoes for updates!
Audience Reviews for Kaminey
½
Kaminey is my foray back into Indian territory since November of last year when I last viewed "Lagaan: Once Upon a Time in India" (2001). Unlike other Indian films I have viewed, this one does not rely much on musical numbers and instead goes to a straight dramatic route. It's quite different from the films I'm use too seeing from India, but in this case different works. Kaminey is split into two chapters covering the desperate lives of two estranged twin brothers converge over missing drugs, politics, racial prejudice, corrupt cops and an unplanned pregnancy. The at time convoluted plot here is not the strongest foundation. It can come out as a bit over long at times because major scenes that have huge potential have disappointing pay off. The plot as a whole is decent to carry your interest. There's enough development to get behind the characters, but the reasoning between the two twin brother hatred is weak. The humor here is hit or miss, but the drama is effective nearly every time. The drama works because of the talented Shahid Kapoor gives a fine performance, excellently displaying the differences between two characters he plays. That is a acting task that not just any actor can pull off successfully. The direction brings to life a visually pleasing dark and moody world. Presenting the rural life, maybe not in a positive way, but certainly in a fairly realistic one. It doesn't spoon feed you the story which is nice to a film that challenges us, though references to India cinematic past will be lost for those who are not familiar with Indian films. In other words, it's like a Tarantino film weaving multiple stories together and referencing cinematic past. Kaminey is far from the best Indian films I've seen from India, but it's still a good film. When the films works it's capable to get the viewer emotionally invested in what's going on. For some it might come out as a muddle mess, but for some it's a decent drama with a terrific lead.
Caesar Mendez
Super Reviewer
½
Ladies and Gentlemen, take a bow. Quentin Tarantino of Indian Cinema has arrived. And how! With Kaminey, Vishal Bharadwaj weaves the familiar Tarantino-ish magic of black humour and gorgeous violence. Yes, I used the word gorgeous as an adjective to violence – because in film making that is possible and yet very difficult to achieve. Kaminey is a milestone in the way movies are made in Bollywood. For starters, it doesn't dumb down the story for the audience. Secondly, the way it is shot – the cinematography is far from the clean landscape beauty of commercial cinema. Instead the movie is shot in dark places, with handhelds, pretty shaky yet gripping. Thirdly, no one has ever dealt with the "judwa" theme like this in Bollywood, and I mean ever. The plot is complex. The movie takes around 20 minutes to establish all the characters and storylines. And as you are just starting to wonder – what on earth is going on – the movie kicks into its roller coaster ride. The plot in essence and in brief is as follows: Two identical brothers, who hate the sight of each other, and lead very different lives suddenly find themselves in life threatening imbroglios. One, the straight forward college student has a pregnant girlfriend and her murderous brother to deal with. The other, a smalltime bookie and gangster, has stumbled upon loads of cocaine and is wanted by several mafia gangs. There are multiple plot lines that meet and separate throughout the movie and somehow all tie together in a hilarious and almost poetic end. Oh it is so brilliant!! Shahid Kapoor is brilliant in both his avatars, and is truly blessed to land a role like this. Priyanka Chopra does a very good modern day kaali wielding a burning torch in one scene and a machine gun in another. The whole supporting cast is absolutely fantastic in their roles. My favorite performance was that of Amol Gupte as the slightly off the edge, don turned politician Sunil Shekhar Bhope. Every time he came on screen, I shivered with fear. All characters are unpredictable and that is what literally keeps the audience on the edge. Kudos to the writers for such a brilliant script! I loved the use of different languages – that brought in so much authenticity to the mélange of characters that make the movie. I am absolutely a huge fan of music in Bharadwaj's movies. Omkara's music made me weep. How can one man be so talented? Gulzar's lyrics are absolutely on the spot in the title song "Kaminey" and truly reflect the sentiment of the movie. And how can we not mention Dhan-te-nan – I don't think it's possible to hear this music and not head bang. I hear it in my car, literally everyday. It's a must watch. No doubt about that.
Vipula Gupta
I love Bollywood and could not sit through this at home. Not sure if I would have walked out of the movie theater. The humor was largely based on speech impediments, and I found it dreadful.
Rebecca Howell
Kaminey Quotes
There are no approved quotes yet for this movie.