Kansas City
(1996)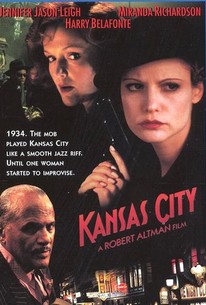 Movie Info
"Kansas City" is a panoramic melodrama about politics, race, crime, and the movies, made in a "jazz" style that matches the film's musical milieu.
People Who Like this movie also like
News & Interviews for Kansas City
Critic Reviews for Kansas City
Audience Reviews for Kansas City
I pefered this film then Altman's "Thieves Like Us" which was also set in the depression era of the 1930. "Kansas City" doesn't care so much on the plot but rather on the characters but I was particularly more interested in the jazz players, and a "Godfather" type played by Harry Belefonte. Altman seems to not want to use his usually skilled trademarks. There is seldom use of overlapping dialogue although there is a good sense of closeness between blacks and whites within Kansas City, Altman's authentic detail to the 1930's, and his great use of editing, cutting between the main characters, and the jazz players. One of the best scenes show two jazz artist going against one another and afterwods respecting each other's craft. Steve Buscemi's character reminds me of one of the characters in "Gangs Of New York" getting all the people to vote. This picture is not Altman's best film but I still enjoyed it thanks to a strong performance from Belefonte, and well, again the period and the music.
½
"Kansas City" is an extremely slight film in Robert Altman's filmography. I was surprised that Altman forgets the basic ingredients that are so important to making film noir work. The biggest sin "Kansas City" commits is that the film is never nasty. A good film noir should always make you feel uncomfortable. Altman understood this in "The Long Goodbye," but for some reason it's obviously absent from "Kansas City." Moreover, Jennifer Jason Leigh and Miranda Richardson are sorely miscast, making the pedestrian proceedings even more uninteresting. "Kansas City" could have been a great film if Altman had dared to take more interesting choices, something that effects all of his late 90s works. As it stands, this is just aggressively mediocre.
Steven Carrier
Super Reviewer
½
boring, but interesting and decently made... also just my opinion but Jennifer Jason Leigh makes Dane Cook seem oscar worthy (seriously).
Coxxie Mild Sauce
Super Reviewer
Kansas City Quotes
There are no approved quotes yet for this movie.