Kansas City Bomber
(1972)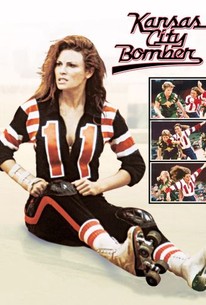 AUDIENCE SCORE
Critic Consensus: No consensus yet.
Kansas City Bomber Videos
Kansas City Bomber Photos
Movie Info
The riotous world of women's roller-derby provides the framework for this actioner that centers upon the travails of a skater who begins an affair with the team owner. She soon finds herself victimized by jealous teammates until the largest woman on the team befriends her. When the big girl is traded, the roller derby queen must defend herself.
News & Interviews for Kansas City Bomber
Critic Reviews for Kansas City Bomber
There are no critic reviews yet for Kansas City Bomber. Keep checking Rotten Tomatoes for updates!
Audience Reviews for Kansas City Bomber
(***): [img]http://images.rottentomatoes.com/images/user/icons/icon14.gif[/img] Fun and entertaining.
TTT C
In this movie Raquel Welch gets to play a less glamorous role. She plays a Roller Derby queen and a single mom. Roller Derby is a made for TV sport that copied Professional Wrestling. I remember watching Roller Derby on TV one time on a Saturday afternoon. I couldn't figure out what was going on then and after watching this movie I still don't know what the rules are. It was just an excuse for staging cat fights between the female skaters. The story in this movie is just a soap opera behind the scenes of a Roller Derby team. Raquel Welch plays K.C. the good looking member of a Roller Derby team. After she is traded from Kansas City to Portland she allows a sleazy team owner to make some moves on her and then she plays innocent when her teammates blame her for every move the owner makes that they don't like. She gets in a rivalry with the former star of the team who is an alcoholic and she befriends a big dumb jock who is the team villain. They show how everything is planned ahead before the matches and it's all just to get the crowd and the TV audience emotionally connected to the team. This movie was made just before the Disco era in the 1970's and polyester outfits where the latest thing. The only reason to watch the movie is to watch the skating that is OK when the stunt women are doing it, but kind of slow when Raquel and the other actresses are on screen. You can tell when it's the stunt women because their hair is over their faces while they are fighting or skating. It's also pretty good when the real Roller Derby skaters are allowed to do their thing. Roller Derby didn't last long. There was a TV sitcom for one season in the late 1970's based on this movie but then in the 1980's Professional Wrestling took off on cable TV and the audience for fake sports left Roller Derby behind. There have been some recent attempts to revive it by with amateur skaters but there's no money behind it. I couldn't tell if this movie was making fun of the working class people who followed Roller Derby or if they were trying to appeal to them. It looked like they used real Roller Derby fans for the crowd scenes but they seemed to like to use shots of the most red necked stupid looking fans to zoom in on. They even had a scene where the fans threw pop and food at a skater they didn't like.
Donald White
Certainly a lot better than I was expecting. Raquel Welch is actually decent. Helena Kalianotes is good as well in a supporting role. Not overlong, moves at a good pace.The use of doubles though is painfully obvious.
James Higgins
Kansas City Bomber Quotes
There are no approved quotes yet for this movie.
Discussion Forum
Discuss Kansas City Bomber on our Movie forum!