Drifting Clouds
(1996)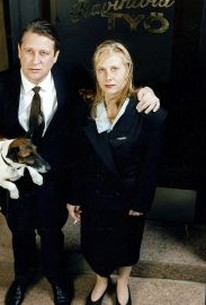 Movie Info
A married couple struggles with the repercussions of unexpected unemployment in this wry comedy drama from Finnish filmmaker Aki Kaurismaki. Ilona, the wife, works as restaurant hostess and her husband Lauri drives a tram. Though the couple has recently lost a child, they both seem at peace and happy. One night Ilona comes home and finds that Lauri has purchased a beautiful television on credit. Shortly thereafter disaster strikes when Ilona's workplace closes and Lauri gets caught in a maelstrom of downsizing. Neither is able to find suitable work right away and as time crawls by, they become humiliated and testy with each other. Eventually Ilona gets a job cooking and bartending in a nameless sleazy dive while her husband, after having to sell their television and car, turns to booze. Things look bad for the marriage when suddenly Ilona decides to open a restaurant. With the backing of her former boss and using her coworkers, she and Lauri open the successful Worker's Rest café and find renewed hope.
Rating:
NR
Genre:
, ,
Directed By:
Written By:
In Theaters:
Runtime:
Studio:
Metro
Critic Reviews for Drifting Clouds
Audience Reviews for Drifting Clouds
Finnish film by Aki Kaurismäki, and the first in a loose trilogy with THE MAN WITHOUT A PAST and LIGHTS IN THE DUSK. Filmed in a strangely timeless manner and funny in a very underplayed way, this is about a couple trying to make the best of a bad job when they both lose theirs. Glum.
½
Aki Kaurismaki is one strange cookie, but then again isn't that exactly what makes him stick out as a director? Okay, I've only seen three of his films so far, but I am starting to see a pattern of strangeness :)
Hans J. Eiðisgarð
I wasn't bowled over, but I liked it. You really want this couple to succeed, and the film never lets you know ahead of time how things are going to play out. Kati Outinen has a terrific face, which seems capable of conveying anything without ever changing from its blank expression.
Martin Teller
Drifting Clouds Quotes
There are no approved quotes yet for this movie.