Cowboy Bebop: The Movie (Kaubôi Bibappu: Tengoku no Tobira)
(2003)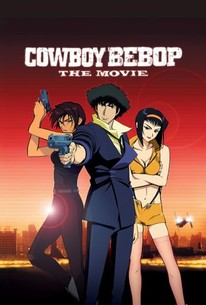 TOMATOMETER
AUDIENCE SCORE
Critic Consensus: This may be strictly for anime junkies, but they'll find much to like about Cowboy Bebop's casual violence and cool dialogue.
Cowboy Bebop: The Movie (Kaubôi Bibappu: Tengoku no Tobira) Photos
Movie Info
The popular animé series Cowboy Bebop gets its own feature-length film with the aptly named Cowboy Bebop: The Movie. Set in the late 21st century, it jumps into the series' story line just prior to its conclusion, with the bounty hunting crew of the interstellar craft Bebop chasing a hacker aboard a tanker into a major city on Mars. As crew member Faye Valentine closes in on the tanker, she witnesses its catastrophic explosion, which soon appears to be a viral terrorist attack as the death toll continues to mount in the days following. Furthermore, Faye caught a glimpse of the person responsible for the blast and is thus the only surviving witness of the crime. After the government puts out a large bounty for the perpetrator's capture, the Bebop gang -- slacker Spike Spiegel, former policeman Jet Black, and hacker girl genius Edward -- begin their own hunt for the mass murderer, who is eventually revealed to be one Vincent Volaju. Vincent, it turns out, was the lone survivor of a governmental medical test and now seeks revenge by unleashing the same microscopic robotic virus used in the tanker explosion on the unsuspecting city. The Bebop crew must scramble to prevent Vincent from carrying out his plan, as well as try to locate an anti-virus to counterattack the effects of Vincent's virus. Released in both dubbed and subtitled cuts in the United States in 2003, Cowboy Bebop - The Movie premiered in Japan in 2001.
People Who Like this movie also like
Critic Reviews for Cowboy Bebop: The Movie (Kaubôi Bibappu: Tengoku no Tobira)
Audience Reviews for Cowboy Bebop: The Movie (Kaubôi Bibappu: Tengoku no Tobira)
Embodies everything I loved about Cowboy Bebop. The chemistry of the crew, the Scifi elements, Spike's martial arts prowess and delicious animation while still retaining that slick bounty hunter feel. Someday though I'll have to climb over that lame melodramatic mountain that seems present in all Anime. The main antagonist is such a quack, boohoo everyone died except me! I don't know about my past so I have to kill large amounts of people! Please.
Drake Tsui
Super Reviewer
½
"Well, that's a real shame. But, we're not cops and we're not from some charity organization. Sorry lady, we don't protect or serve. This is strictly business." One word came to my mind after watching this. Unnecessary. I have been putting off watching the Cowboy Bebop movie for several years now. I'm a huge fan of the show, but I had heard and read so many mixed or negative reviews of the movie online and from friends, that I was hesitant to see it. In the end, though, I figured that any Cowboy Bebop had to be somewhat worthwhile. That turned out to be partially true, but I still find myself disappointed. To be blunt, the story was completely uninteresting. Each episode of the series was like a (good) mini-movie on its own, so I don't get why giving the creators more time to develop and tell this story, ended up producing something that wasn't nearly as engaging as any given one of the original episodes. It felt like the decision to make the movie came first, and very little effort was put into making a worthy plot to go along with it. The new characters are uniformly dull, much of the soundtrack was poor (How did THAT happen? Where's the jazz?), and the film as a whole felt disjointed, at best. I tried as hard as o could to like it all, but the most positive description I can give for my experience is "meh". I'll admit that it warmed my fanboy heart to see Spike, Faye, and the gang in action again. The animation was very good, and some of the action scenes were top notch. But without the great storytelling that we've all come to expect, I'd recommend this to only the most fervent Cowboy Bebop fan. You'd have much more fun in the same amount of time by just watching four of your favorite episodes from the original show.
Cowboy Bebop: The Movie (Kaubôi Bibappu: Tengoku no Tobira) Quotes
| | |
| --- | --- |
| Electra Ovilo: | Tell me what you're doing here... |
| Spike Spiegel: | Let's flip a coin. Heads I tell you, tails we go out on a date. |
| | |
| --- | --- |
| Spike Spiegel: | Oh, great. A bored little army. |