Keep On Keepin' On
(2014)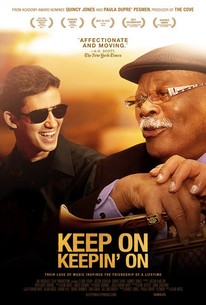 Keep On Keepin' On Videos
Keep On Keepin' On Photos
Movie Info
Shot over the course of five years by first time filmmaker Al Hicks, KEEP ON KEEPIN' ON depicts the remarkable story of 93-year-old jazz legend Clark Terry. A living monument to the Golden Era of Jazz, Terry - a mentor to Miles Davis - is among the few performers ever to have played in both Count Basie's and Duke Ellington's bands. In the 1960's, he broke the color barrier as the first African-American staff musician at NBC - on "The Tonight Show". Today, after a life spent working with and teaching the most totemic figures in jazz history, Terry continues to attract and cultivate budding talents. KEEP ON KEEPIN' ON highlights his friendship with the preternaturally gifted Justin Kauflin, a blind, 23-year-old piano prodigy who suffers from debilitating stage fright. Not long after Kauflin is invited to compete in an elite Jazz competition, Terry's health takes a turn for the worse. As the clock ticks, we see two friends confront the toughest challenges of their lives. Kauflin's work on the film's score with composer Dave Grusin sets the tone for a story that spans decades, lifetimes and the entire history of modern Jazz, complete with firsthand anecdotes from Jones and Herbie Hancock. KEEP ON KEEPIN' ON is a film crafted with great affection by Hicks - another former student of Terry's - a grace note for his teacher, infused with soulfulness and serendipity. Paula DuPre' Pesmen (behind the Academy Award winning THE COVE and the Oscar nominated CHASING ICE) produced the film with seven time Academy Award nominee Quincy Jones who also counts Terry as his mentor. Jones came on board as producer after literally walking into the film as one of its subjects, discovering Justin's talent purely by chance during a visit at Clark's home. (C) Radius-TWC
Rating:
R (for some language)
Genre:
,
Directed By:
Written By:
In Theaters:
On DVD:
Box Office:
$162,530.00
Runtime:
Studio:
News & Interviews for Keep On Keepin' On
Critic Reviews for Keep On Keepin' On
Audience Reviews for Keep On Keepin' On
½
We've had so many great documentaries recently chronicling the musical careers of amazingly talented people, as well as documentaries about growing old and facing death as a person with a great legacy. Keep on Keepin' On represents both of these at once, and it's pretty wonderful. Focusing on the relationship between jazz legend Clark Terry and Justin Kauflin, Terry's student. As we watch Kauflin's talent and passion for jazz grow, we also watch the relationship between these two men evolve. It's something beautiful and inspirational to watch. So much of the time we see Terry as an elder statesman, passing on his knowledge and his love for the genre with every speech. Even in his debilitating state, Terry still wants to teach and to inspire this young man to have a life of passion and excitement. There are some truly emotional and lovely scenes between these two men as we watch them both dealing with the inevitable, Clark's progressing sickness and eventual death. They never really talk about it, but as they use their discussions about jazz to distract them, you can feel the weight of the elephant in the room. This film is inspiring, beautiful, and moving. Whether you love jazz or not, you will find something enjoyable about watching two men, at different stages in the development of their skills, find comradery with one another. There's a brotherhood here, and it's powerful and engaging. You don't want to turn away from it. And even if you don't love jazz, you may leave with a growing appreciation for it, as you see the skill and the heart it takes to really be great. Jazz serves as the soundtrack as well as the emotional driving force behind the film. It's impossible not to love.
Nathan Martin
For a non jazz fan an incredible insight to what makes those of us who love this music tick. Incredible.
Matt Erion
First-rate doc on Clark Terry that goes deeper than expected. A wonderful film about mentorship, aging and jazz.
Scottt French
Keep On Keepin' On Quotes
There are no approved quotes yet for this movie.
Discussion Forum
Discuss Keep On Keepin' On on our Movie forum!