Keeper of the Flame
(1942)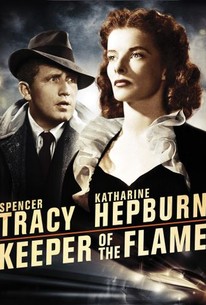 AUDIENCE SCORE
Critic Consensus: No consensus yet.
Keeper of the Flame Videos
Keeper of the Flame Photos
Movie Info
In this film, war correspondent Spencer Tracy is assigned to write the life story of a recently deceased super-patriot. One would suppose that the much-beloved decedent's life would be an open book, yet his widow Katharine Hepburn refuses to release any details concerning her late husband.
Rating:
NR
Genre:
, ,
Directed By:
Written By:
In Theaters:
On DVD:
Runtime:
Studio:
MGM
Critic Reviews for Keeper of the Flame
All Critics (3) | Fresh (1) | Rotten (2)
Director Cukor thought the plot was fraudulent, and the film is the worst collaboration of Spencer Tracy and Katharine Hepburn in her first role as a "mature" woman.


Ozus' World Movie Reviews
Middle-brow MGM variant on Citizen Kane. More interesting than good.

Mountain Xpress (Asheville, NC)
Audience Reviews for Keeper of the Flame
This is probably one of the most underrated suspense/thrillers ever, as well as being one of Katharine Hepurn's and Spencer Tracy's most underrated films. The story is engaging, the acting is superb, and there are many twists and turns to be analyzed, as well as important themes that are still relevant to this day. I was on the edge of my seat and engaged from beginning to end, and this film also blew me away during its twists and turns. I will never forget a line near the end of the film, "I destroyed the man to protect to the image." This film is an important statement that some of our greatest heroes are our worst enemies. See this film.
Keenan Sullivan
½
An intense, yet also extremely heavy-handed political drama. It leads on like a film noir with the writer played by Tracy as the detective, trying to figure out a mystery about the famous Mr. Forrest, and then becomes something very outrageous in the end. I enjoyed it, but it is a little too unbelievable, if you see it you know what I mean. Overall it is pretty good, though.
½
American Fascism Must Hide Behind Democracy I'm not sure the [i]Citizen Kane[/i] comparisons are quite fair. And I don't just mean because I don't think it's fair to compare much of anything to [i]Citizen Kane[/i]. I'm thinking more along the lines of how the story doesn't even line up with [i]Kane[/i] as well as does the one of that one Mexican wrestling movie I watched. There are a few similarities, and we'll get into those in a minute, but there are more differences. The issue seems to be a similarity of plot structure and a character who gets into politics for reasons other than the best interests of his fellow citizens. And let's face it, there are plenty of stories about that which don't have much to do with [i]Kane[/i]. And given how badly [i]Kane[/i] did in its initial release, I'm not sure any studio would risk copying it so soon. As it was, the movie was uncommercial enough, even given it was the early days of World War I. War hero Robert Forrest has died in an accident, having driven off a bridge which went out in a storm. His wife, Christine (Katharine Hepburn), is refusing to talk to reporters and has shut herself up in the family estate. Steven O'Malley (Spencer Tracy), who has been reporting on the war in Europe, comes back to the US with the plan of writing about the "true" Robert Forrest. The hero of millions. And this isn't intended to be some kind of hatchet job; he sees Forrest as having been a great man who was what the country needed in a time of crisis, and he wants to immortalize that man as war sweeps the world. Only when he finally gets in to see Christine, thanks to Charming Urchin Jeb Rickards (Darryl Hickman), he discovers that there is something going on which the public knew nothing about. There was more to Robert Forrest than the hero of the Ardennes and inspiration to youth everywhere. For one thing, it turns out his mother (Margaret Wycherly) was secretly alive and living on the property. So here's where it's like [i]Kane[/i]. Robert Forrest, a complicated man of uncertain past, is dead. A reporter tries to piece together his life by talking to those who knew him. And . . . that's pretty much it. For one thing, O'Malley isn't much interested in Forrest's childhood. He's really only trying to piece together one night. He talks to fewer people, and the people he talks to have more interest in keeping what they know secret. It isn't even just that they're trying to preserve his image; most of the people here are trying to preserve his [i]secret[/i]. And while Charles Foster Kane had secrets, he had secrets that he was trying to keep from everyone. Robert Forrest had an inner circle who knew the truth, and from the outset, they put up a united front against Stevie O'Malley. There were those devoted to Charles Foster Kane, but they didn't know the real man any more than anyone else did--and didn't much like each other, either. What's more, that unfair comparison only serves to take away from the real blessings of this movie. As it was made, the United States was just beginning a horrible war with an enemy as much philosophical as martial. It was a war many in the country had spent years trying to avoid--and not in the way that those campaigning for peace did but by simply trying to prevent the United States from entering. After all, people in Europe and Asia had already been at war for some time. And one of the things American propaganda would begin to teach, and had even before Pearl Harbor, was the differences between Us and Them. Robert Forrest's dark secret was one that was shared by many Americans, and it is important to US history that the people begin to see that women like Christine Forrest--brave and strong, loving and patriotic--could choose their country when they thought they were betrayed by a man whose values and beliefs were antithetical to what he'd said he stood for. She is American Womanhood, and she's Anti-Fascist. She is, however, not entirely suited toward being played by Katharine Hepburn, and that was the problem with wartime movies. With actors, you took what you could get. It's arguably true that, had John Wayne actually gone to war instead of just acting in war movies, he might not have a career left when he came back. But the big-name stars were all off overseas, and John Wayne, among others, filled the gaps. Scripts were mostly about the war or else intended to take people's minds off the war. And Spencer Tracy did do a good job in playing the serious investigative reporter, a man who's seen war and knows what the dark side of it looks like. He's believable as a man who sees the US as a shining beacon against fascism. And so forth. And it's true that he was great with Hepburn. We just today picked up the complete set of the movies they made together, and while some, like this one, will be new adventures, others will be old friends. But this is definitely not the best of the lot, because it's forced into a shape the Tracy/Hepburn relationship just didn't fit.
Edith Nelson
Keeper of the Flame Quotes
There are no approved quotes yet for this movie.
Discussion Forum
Discuss Keeper of the Flame on our Movie forum!