Doing Time (Keimusho no naka)
(2003)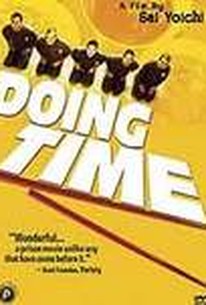 AUDIENCE SCORE
Critic Consensus: No consensus yet.
Movie Info
Yoichi Sai's prison film Doing Time stars Tsutomu Yamazaki as Hanawa, a man serving a sentence in a minimum-security prison. Life in the jail is rigid and organized, eventually leading all of Hanawa's cellmates to abandon their individuality. Hanawa lasts longer than the others, but a stint in solitary confinement leads him to the same emotional and psychological state as the others. Doing Time was screened at the Vancouver Film Festival. ~ Perry Seibert, Rovi
Critic Reviews for Doing Time (Keimusho no naka)
All Critics (1) | Fresh (1) | Rotten (0)
I found myself far more bereaved than elated with Doing Time. For a drama, I didn't find it very dramatic. For a character study, the characters are so drilled into conforming that there doesn't seem to be any actual characters ...

Audience Reviews for Doing Time (Keimusho no naka)
A series of small episodes about life in a Japanese prison. No violence or guard brutality, instead super-exacting rules, repetitive tasks and obsession about the food. Subtly funny, and quite unlike any other prison drama I've ever seen.
[img]http://images.rottentomatoes.com/images/movie/coverv/79/779079.jpg[/img][font=Comic Sans MS][size=+1][size=2]This movie is based on a manga by Kazuichi Hanawa, this is about his real life experiences when his hobby of collecting Swords & replica guns got him sent to prison for 3 years. A rare glimpse into a whole different world that is Japanese prison![/size] [/size][/font] [font=Arial][size=3][b]I was surprised by this film. I didn't know anything about it when I first sat down to watch it, other than it was a Japanese film that apparantly had to do with prisoners. It turns out it's nothing like you'd expect from a typical prison movie, at least not the western ones. There's not the usual rape, beatings, swearing and such. Japanese prison life is highly structured and run more like a military camp in the sense that everything is based on minute detail, nearly every aspect of a prisoners life is controlled. Tidyness, rules & repetetion are what run their lives. The things most of us take for granted, like a good meal, are all important to the prisoners. They get very excited and discuss incessantly about the upcoming New Year's dinner. A prisoner's rare treat to see a movie and given a sodapop & cookies will evoke great envy from his cellmates. When he arrives back he takes great pleasure in bragging about it.[/b][/size][/font] [b][font=Arial][size=3]The story is an interesting study on how monotonous life can make the smallest details all encompassing. Some of the scenes are humorous, like how an argument will break out between cell mates about whose pubic hair was found during their daily cell room cleanup, and how the prisoners love to gossip about the penis size of one of them & Hanawa's disappointment when he forgets to check it out during one of the prisoners bath breaks.[/size][/font][/b] [b][font=Arial][size=3]You would think this would make for a boring movie, and perhaps my description doesn't do the film justice, but surprisingly I found the film interesting. Hanawa's inner dialogue that we hear during the film is largely what makes the story insightful & meaningful. The performances are all excellent and the film is well directed by Yoichi Sai. [/size][/font][/b] [size=3][font=Arial][b]It's a very realistic protrayal since it's based on the real life experience of the manga artist [/b][size=4]Kazuichi Hanawa, who was sentenced to 3 yrs in prison in 1994 for possession of a firearm. His popular manga series Keimusho No Naka (Doing Time) is what this film is based on. [/size][/font][/size] [img]http://benippon.com/shop/i/DVD-TDBD-2035.jpg[/img]
Bobbie Murphy
Doing Time (Keimusho no naka) Quotes
There are no approved quotes yet for this movie.
Discussion Forum
Discuss Doing Time (Keimusho no naka) on our Movie forum!