Kenny & Co.
(1976)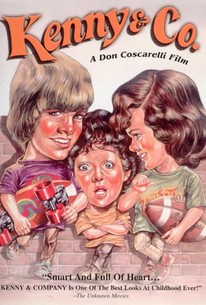 AUDIENCE SCORE
Critic Consensus: No consensus yet.
Movie Info
Cinematographer/director Don Coscarelli gleefully indulged in calisthenics with the camera in his low-budget Kenny and Company. The story is a simple one, centered on the anguished but not atypical childhood of young Dan McCann. Coscarelli has a marvelous knack of breathing nuance into the most commonplace fears and desires of children. The end result makes one wish we'd seen a lot more of both Dan McCann and Don Coscarelli after the limited release of Kenny and Co.
Critic Reviews for Kenny & Co.
Audience Reviews for Kenny & Co.
½
**** out of **** I was not a kid of the 1970's, but then again neither was Don Coscarelli. Nevertheless, the 70's marked an important time in the director's career; and just by coincidence, one of his best films - "Kenny and Company" - is a film dedicated to themes of childhood and adolescence, set in the 70's, which was when it was also released. It's one of those deals where you didn't have to have grown up in the times to relate to the film in any way; keep the premise and pick a different decade, and you would probably get similar results. But alas, you'd still need Coscarelli on board; for it is his eye for human appreciation and drama that carries most of his films, making each and every one of them more than the sum of its parts (well, most of the time at least). With a minimalist style and a noticeable shortage of Hollywood talents on board for the project, Coscarelli is somehow able to evoke more honest emotions of childhood nostalgia than most films covering similar grounds could ever hope to. Lost in the unforgiving tides of circulation for years - and never quite receiving the release or recognition that it deserves - "Kenny and Company" is a wonderfully evocative film that a nostalgic market of movie-goers will want to keep revisiting again and again. The film is made up of short vignettes and story arcs rather than a conventional narrative. This works, since childhood is basically a rapid-fire series of moments both happy and sad; and so the film aims to depict such moments in the most realistic and resonant way possible. The film shows us what it's like for a few days in the life of the young, adolescent, budding, ever-so-ripe Kenny (Dan McCann). We meet his family, his best friend Doug (Michael Baldwin), the annoying kid across the street named Sherman (Jeff Roth), the neighborhood bully Johnny Hoffman, and Kenny's favorite teacher Mr. Donovan (frequent Coscarelli collaborator Reggie Bannister; always a delight). We see Kenny at home and at school; where he faces the most problems. You see, Kenny is starting to grow up; pursuing the pleasures of life, and he'll start by developing his first crush - which is on the blonde beauty Marcie. I have the feeling that a lot of movies dealing with similar thematic elements might have sugarcoated a good many issues in regards to growing up, but Coscarelli tells the story simplistically and efficiently. The end result is light-hearted, family-friendly treat; so long as everyone in the family is at least ten years of age or older (topics such as pornographic images of women, mild violence involving fake guns and the like, and a monster who shows up that might potentially scare kids are not to be viewed by anyone of a riper age). Still, it's a sweet, genuine, and innocent movie; and I can honestly say that they don't make them like this anymore. I was never as mischievous as Kenny or the titular "company", but there's still plenty to relate to when it comes to their free-spirited antics. You could call it "Childhood: The Movie" and you'd not be criticized for doing so. All the events that take place in the film lead up to Halloween night, which means a prolonged trick-or-treat scene in which Kenny, Doug, and Sherman dress up as a Bear, a Hunter, and a Penguin respectively in order to score some delicious treats from the neighborly folk. This scene is absolute gold; as the trio gets more than they bargained for when they run into a haunted house sort of attraction in the neighborhood that houses the aforementioned monster. But most of all, it's a great sequence because it captures every last bit of the excitement and anticipation that is derived from the adrenaline rush brought on by candy corn and fear alike on that particular night. Coscarelli understands how people - children and friends especially - work and he's made yet another great film that speaks to me in more ways than one. Maybe it's just a personal thing, but I loved "Kenny and Company". For a while, Coscarelli didn't have much to work with, as studios turned him and his movies down and would not provide him with the high-tech resources that he would soon gain access to after directing "Phantasm" just a few years down the road after this film - his second overall. But what he lacked in technical advantage he made up for with wit, humor, and a whole lot of heart. If deep down inside you see a little bit of "kid" still within yourself, you'll find this film to be both funny and oddly touching. Everything about it is just so simple, but when you're a kid, such is life. The pre-teens of "Kenny and Company" seem to think they're immortal, for now, although then again the introduction of the ugly truth that is eventual death is a major theme later on in the film; since that was one of Coscarelli's many obsessions back in the day (and still now, I think). It isn't his most visually impressive or "accomplished" work, but I feel that "Kenny and Company" is the film closest to Don Coscarelli's heart. It's a chronicle of what he observed and admired as a kid, and about kids; which is why I found it so irresistible and endlessly charming. While watching it, I realized that I had met these kids before; and spent a lot of time with them some time ago as well. And now, we were being re-united, one way or another. You know you've found a special film when it has that sort of effect on the viewer. It probably won't work the same magic for all audiences, but I don't really care. As long as you're with Coscarelli, you're almost always in good company.
Ryan Marshall
Super Reviewer
Kenny & Co. Quotes
There are no approved quotes yet for this movie.
Discussion Forum
Discuss Kenny & Co. on our Movie forum!