Keoma (Django's Great Return) (The Violent Breed)
(1976)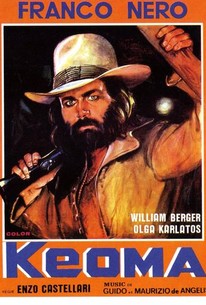 AUDIENCE SCORE
Critic Consensus: No consensus yet.
Keoma (Django's Great Return) (The Violent Breed) Photos
Movie Info
Half-breed Keoma (Franco Nero) returns to his border hometown after service in the Civil War and finds it under the control of Caldwell (Donald O'Brien), an ex-Confederate raider, and his vicious gang of thugs. To make matters worse, Keoma's three half-brothers have joined forces with Caldwell, and make it painfully clear that his return is an unwelcome one. Determined to break Caldwell and his brothers' grip on the town, Keoma partners with his father's former ranch hand (Woody Strode) to exact violent revenge.
Critic Reviews for Keoma (Django's Great Return) (The Violent Breed)
All Critics (4) | Fresh (3) | Rotten (1) | DVD (1)
... probably the last great spaghetti western, a thoroughly cynical portrait of greed, cruelty, depravity, and prejudice in an isolated town suffering from both plague and an outlaw gang.
The movie's almost random collection of elements gives it an appealing recklessness and energy that sells it.
Audience Reviews for Keoma (Django's Great Return) (The Violent Breed)
A western/greek tragedy directed in an almost hallucinatory style by Castellari. With a plague-infected town that gives the film a very apocalyptic atmosphere. Featuring one of the most unique soundtracks for any western, or movie for that matter, that i have ever heard, with a crazy banshee woman and some guy with a weird voice narrating in the songs. Like a greek chorus telling you the story. Is the complete opposite of your usual spaguetti western soundtrack. Make no mistake, it fits the movie perfectly, even if you're not fan of the soundtrack, you won't think of any other music that could suit better this film. I love it, but then again, i have weird taste in music. Keoma has a truly solid cast that features William Berger, Woody Strode, and Franco Nero sporting on of the most badass beards this side of Kurt Rusell's The Thing. A bunch of italian regulars form a well balanced and colorful cast. While the story goes into some familiar territory it remains always engaging and fascinating. Hard to believe that the whole thing was being improvised, one page per day. That the entire cast and crew collaborated to the story gives this a different vibe, and you can really tell that everyone from Nero to the extras are really into it. Keoma is a fantastic way to close the italo-western era, a movie that deserves a page in movie history.
Tsubaki Sanjuro
Super Reviewer
Just flat out cool. It's extremely well made and culturally aware. What you might not expect is the originality of it. It's not just some mindless gunslinger film, it's more about racism in the west. Franco Nero is as good as he was when he started the genre a decade before. No, it's not Sergio Leone, but it's strangely close to something he would've done. Castellari clearly had a great feel for the genre so he was able to play around with expectations and stylization. There are some incredibly well done shoot-outs and a ton of well balanced action. I even love the bizarre theme song. Definitely in my top ten Spaghetti Westerns list.
Conner Rainwater
Super Reviewer
½
I'm a fan of Franco Nero and Castellari as it is, but in this sucker they both carve out one hell of a spaghetti western. Enzo directs with interesting artistic flair and with alot of help from Nero create a different but still cool anti-hero. I'm sure this flick holds up to the better of the sub-genre as well as repeat viewings which I'm sure I'll participate in soon.
Patrick Dolan
Super Reviewer
Keoma (Django's Great Return) (The Violent Breed) Quotes
There are no approved quotes yet for this movie.