Keys to Tulsa
(1996)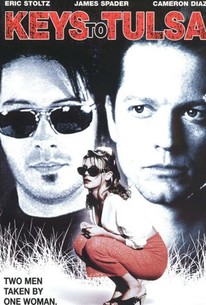 Movie Info
The black sheep son of a wealthy family sinks deeper into corruption the harder he tries to pull himself out in this drama. Richter Boudreau (Eric Stoltz) is a small-time film critic with a checkered past and some bad debts who decides to return to his old home town of Tulsa in hopes of getting his life back in order, much to the dismay of his mother Cynthia (Mary Tyler Moore), who is sick of lending him money and would prefer to have nothing to do with him. Richter still carries a torch for his one-time girlfriend Vicky (Deborah Kara Unger), who these days is married (not especially happily) to Ronnie (James Spader), a low level drug dealer with loftier criminal ambitions. Richter owes Ronnie money from a long time ago and isn't in a position to say no when Ronnie asks him to help with his latest scheme; Cherry (Joanna Going), a stripper, was a witness to the murder of a prostitute, and since the killer, Bedford Shaw (Marco Perella), is the son of the richest and most powerful man in town, Harmon Shaw (James Coburn), Ronnie feels that this information has remarkable blackmail potential. Richter finds himself caught up in Ronnie's plan while fully aware of the danger of tangling with Harmon Shaw. He also finds himself falling into ill-advised romance with Cherry. Keys to Tulsa was the first directorial effort for producer Leslie Greif; Cameron Diaz and Michael Rooker also appear in supporting roles.
Critic Reviews for Keys to Tulsa
All Critics (8) | Top Critics (1) | Fresh (1) | Rotten (7) | DVD (2)
This comedic crimer is a late-in-the-cycle Tarantino retread. Pyeton's script from Berkey's novel is deft, but Leslie Grief's awkward direction lacks modulation and visual style, and he doesn't even get decent performances from Stolz and Cameron Diaz.

A messy mix of soap opera, film noir, black comedy, and social satire, none of which is done very well.
Audience Reviews for Keys to Tulsa
½
I don't really like this movie but I love the parts when James Spader was in. He was funny in this movie.
TheMaddogMusic .
I thought this would be a guilty pleasure movie but it was more crap than I bargained for. Bad acting, bad plot, Bad, bad, bad.
Trish TheDish
Keys to Tulsa Quotes
There are no approved quotes yet for this movie.
Discussion Forum
Discuss Keys to Tulsa on our Movie forum!