Khuda Ke Liye
(2007)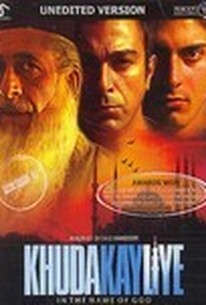 AUDIENCE SCORE
Critic Consensus: No consensus yet.
Critic Reviews for Khuda Ke Liye
There are no critic reviews yet for Khuda Ke Liye. Keep checking Rotten Tomatoes for updates!
Audience Reviews for Khuda Ke Liye
½
Film has the ability to convey certain ideas and tackle important issues that are otherwise not discussed, especially in conservative societies such as Pakistan. Khuda Kay Liye (In the Name of God) by Shoaib Mansoor stands out as a bold political Pakistani film that made a worldwide impact because of its unique perspective of the September 11th 2001 Twin Tower attacks in New York and how it not only affected American citizens but had a long term effect on how Muslims are now viewed as terrorists. What makes this movie so special is that it doesn't only focus on the 9/11 terrorist attacks but fearlessly delves into pressing issues of racial profiling, gender discrimination, and fundamentalism in Islam. Shoaib Mansoor does this by telling the regrettably tragic stories of two very different Pakistani brothers, easily manipulated Sarmad and strong-headed Mansoor, as well as the story of their cousin, British citizen of Pakistani origin, Mary. The director is able to interweave these three emotional stories so beautifully to create a unique movie that focuses on how misconceptions about music, culture and religion are unnecessarily at the root of many controversial issues. Khuda Kay Liye effectively transitions between the United States of America, Pakistan, the United Kingdom, and Afghanistan, by following the captivating stories of Sarmad, Mansoor and Mary, while joining the scenes through non-diegetic music and compelling dialogue. The viewers are first introduced to Sarmad and Mansoor as two aspiring musicians brought up in a liberal, modern and supportive family. However it is also clear that not everyone appreciates their talent, as seen when a gang of shouting men destroys the stage that was set up for the brothers' concert. This is the first scene of animosity against music and the abrupt shift from the two brothers cheerfully singing to the resonating yells of the angry men emphasises the tension within Pakistan due to the disagreement about the "un-Islamic" nature of music. Music plays a paramount role in the movie, both diegetically and non-diegetically, to expose the opposing beliefs between "orthodox" and "progressive" Islam. One important question addressed throughout the movie is whether music is forbidden in Islam. This question is what sparks Sarmad's initially casual visit to a local priest, Mullah Tahiri, and ultimately leads to brainwashed Sarmad forcibly committing crimes "in the name of God". This is a central idea that the director conveys throughout the movie, especially through the repetition of God's name playing in the background music of intense scenes. One of these crimes includes raping Mary after she was callously forced to marry him because her father was against the idea of her marrying a white non-Muslim man, despite having multiple relationships with white women himself. Shoaib Mansoor takes advantage of the camera to show the viewers particular shots that give them a greater understanding of the situation than the characters themselves. This is especially the case when the viewers figure out that Mary was unwillingly being lured into marrying Sarmad by her own father, way before Mary herself understands the situation she's in. This is achieved through face shots of her father's ingenuine face as he lied to Mary in order to bring her to Pakistan and use her to fix his own wrongs. Shoaib Mansoor only uses close ups of the characters to add a dramatic air of tension during a powerful scene. For example, through the use of emotive close ups of Sarmad's distraught expressions and shocked reactions, the viewers feel sympathy and pity towards him while being equally frustrated at his confused and cowardly personality. Sarmad's deterioration, as he is mislead along the wrong path for Allah's acceptance, is shown as a rapid process to emphasise the indoctrination done by the local Islamic priest, who radicalises and misinterprets Islam as an orthodox religion where women have no rights, music is forbidden, and 'holy war' is encouraged. Once again, the viewers understand the situation Sarmad is stuck in, yet in an unconscious way so does Sarmad. Throughout the movie Sarmad seems to suppress his own beliefs and values and blindly follows the priest, in the hopes of becoming a better Muslim. However, in the penultimate scene where Maulana Wali gives his testimony in court, close-ups of Sarmad show how the honest words of this highly respected priest unlock his unconscious, thus enlightening him of all the wrongs he has committed in the name of Allah. There is a clash of ideologies portrayed throughout the movie, but most effectively through the juxtaposition between Mullah Tahiri and Maulana Wali. Throughout the movie, Shoaib Mansoor frames characters with opposing ideas separately so as to formally isolate their different opinions and almost portray them as binary opposites. Unlike Mullah Tahiri's unsupported extremist arguments, Maulana Wali disputes them by quoting religious texts to prove that Islam is not anti-woman and that the Prophet actually praised those with "melodious" voices. It is Maulana Wali's lengthy but captivating monologue that helps clear any doubts Sarmad had, and indirectly aims to educate the viewers about the consequences of misinterpreting Islam. Shoaib Mansoor indirectly addresses the viewers again in the final scene through Mansoor's letter to Janie, the American girl he fell in love with and married while studying music in Chicago. Mansoor faced grave injustice, after the 9/11 attacks, when he was kidnapped and horribly interrogated for a crime he did not commit. Due to racial profiling and a multitude of cultural misunderstandings, he was believed to be a part of Al-Qaeda and thus tortured in such extreme ways that he became so physically and mentally damaged. It was in the height of his torture when he wrote that heart-felt letter to Janie, and while the voiceover of him reading the letter - that also seems to be directed at the viewers - plays, the camera shows Janie's raw emotion and sadness as she looks at mentally disturbed Mansoor in a straightjacket. The main message of the letter is that just as he does not blame all Americans for the injustice he has faced, "please don't hate all Muslims because some have done harm to your country." (2:43:30) At a time where Islamophobia is increasing, Shoaib Mansoor creates a film that consciously challenges people's ideological perspectives of Islam. He uses each character to address a political and religious issue, whether it be women's rights through Mary, the danger of racial profiling through Mansoor, or the importance of following Islam 'the right way' through Sarmad. Shoaib Mansoor is able to successfully tell multiple stories by interweaving them not only through contextual references but also formally by maintaining a subtle green tinge over nearly the entire movie, symbolic of Islam and the Pakistan flag, and using a soulful soundtrack that merges the scenes together. Khuda Kay Liye is an enlightening and emotional movie that cuts across all boundaries of culture, religion, and gender to ask important hard-hitting questions about Islam. References: Khuda Kay Liye. Dir. Shoaib Mansoor. Perf. Shaan Shahid, Fawad Khan, Iman Ali. 2007. Tune.pk.
Tehniyat Baig
½
A powerful drama portraying culture clashes within Pakistanis both inside and outside their country. The film starts with minor issues that gradually gets bigger and goes completely out of hand post 9/11. First thing you notice about the film is that it never shies away from the depiction of fanatic and sexist elements in Pakistani society. Writer-director Shoaib Mansoor's layered and multi-threaded treatment of the complex subject matter is gripping and poignant. The music comprising of an array of genres adds up the impact of the film. I'm all eyes for Shoaib Mansoor's next film Bol reportedly "about Sunnis and Shias" slated for release in April 2011
½
06/12/2009
Very sensitive and contemporary topic. Will be a great film for future to know hos the world was like that time... little bit lengthy at the end. Could have been 20-25 min shorter. Very good acting. Changed my view towards Pakistani Movies.
Arindam Roy Chowdhury
Khuda Ke Liye Quotes
There are no approved quotes yet for this movie.
Discussion Forum
Discuss Khuda Ke Liye on our Movie forum!