Kichiku dai enkai
(1997)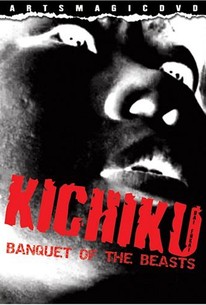 AUDIENCE SCORE
Critic Consensus: No consensus yet.
Movie Info
Kazuyoshi Kumakiri makes his directorial debut with this surrealist psychological horror flick about revenge and radical politics. Set during the early '70s, the film centers on a group of radicals holed up in a dingy Tokyo apartment. With their leader Aikawa (Yuji Hashimoto) in jail, his girlfriend Masami (Sumiko Mikami) rules the group with her overt sexuality and her iron will. While her Mr. Right is in stir, her Mr. Right Now is a fellow sect member -- the stocky, bearded Yamane (Tomohiro Zaizen). After two other members return from a bank robbery that Masami ordered, Yamane launches into her and a heated fight ensues. When he makes a minor comment about the exalted Aikawa, he is beaten up and spirited out the door. Yamane is replaced by two more ruthless believers: the silent, shorn Fujihara (Kentaro Ogiso) who was Aikawa's prison mate, and Sugihara (Toshiyuki Sugihara), who is the college friend of longhaired fellow sect member Kumatani (Shigeru Bokuda). Later, the sect continues to prepare for the eventual confrontation with the man, particularly by collecting a small arsenal. One day after nabbing a shotgun, which Masami fondles with freakish intensity, they throw a party. Masami, ever the center of attention, stages a Chinese-style lion dance and then takes the guitar-strumming Kumatani for a lover. When they learn that Aikawa died in prison, the group unity threatens to come apart at the seams. They need a scapegoat and fast. When Yamane picks a fight with Kumatani about his former lover, the pudgy belligerent is stuffed into a car and driven to an idyllic forest setting. There the horror begins. This film was screened at the 1997 PIA and Berlin Film Festivals. ~ Jonathan Crow, Rovi
Critic Reviews for Kichiku dai enkai
There are no critic reviews yet for Kichiku dai enkai. Keep checking Rotten Tomatoes for updates!
Audience Reviews for Kichiku dai enkai
What little plot there is follows some kind of political student group on their shared descent into madness and sick violence. This is about as far from mainstream cinema as you are likely to get and most people are unlikely to enjoy it. Whatever pretensions the makers may have had are swept away in a sea of blood as the sickening scenes pile up. The last 40 minutes are pure gut-wrenching horror. The patient viewer is given an experience that will not easily be forgotten. Is it a good film? In many ways, yes, but not without its flaws.
El Hombre Invisible
Super Reviewer
Oh what a sordid tale this film tells. One of the few films to gross me right out. After being bored for an hour, I was suddenly squirming in my seat an being appalled by the images being presented before me. However, after the screening the director won me over. After being attacked by some of the more puritanical folk in the audience he shrugged it off, asking why they stayed. The angrier they got, the more he seemed utterly confused about why they'd be so upset by a film. That was nice seeing someone shrug off the whiners rather than justifying what he makes to them. He said he wanted his film to horrify and made no bones about it. Impressive, so impressive that I bought the DVD when it came out, but I still haven't gathered the courage to watch it. Maybe the rating will go up when I do.
Christopher Brown
Super Reviewer
Kichiku dai enkai Quotes
There are no approved quotes yet for this movie.
Discussion Forum
Discuss Kichiku dai enkai on our Movie forum!