Kid Blue
(1973)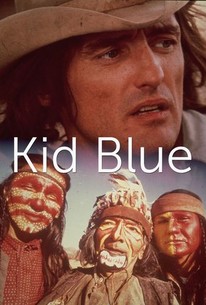 AUDIENCE SCORE
Critic Consensus: No consensus yet.
Movie Info
A hapless outlaw discovers he isn't any better off on the right side of the law in this offbeat western comedy set at the turn of the century. While Bickford Waner (Dennis Hopper) is known to lawmen as notorious bandit Kid Blue, his reputation far outstrips his actual success as a crook, and after a train robbery falls apart moments after it began, Bick decides it's time to go straight. Bick settles in Dime Box, Texas, a shabby little town dominated by a ceramics factory that makes novelty ashtrays, and manages to find a lose a series of odd jobs through his innate clumsiness and his short temper. Bick moves into a rooming house where he's befriended by Reese Ford (Warren Oates), a good natured man fascinated with the ancient Greeks and their ideals of male friendship, and his wife Molly (Lee Purcell), who doesn't believe their relationship need be platonic. Bick also finds a friend in pill-popping Preacher Bob (Peter Boyle) and makes an especially fierce enemy in foul-tempered sheriff "Mean John" Simpson (Ben Johnson). After his personal and professional lives take unexpected turns for the worse, Bick decides he needs to go back to a life of crime, though he hasn't gotten much better at armed robbery than he was before. Also starring Janice Rule, Ralph Waite and Clifton James, Kid Blue was shot in 1971, but not released until 1973, after the box-office failure of Dennis Hopper's The Last Movie sent his career into a tailspin; it would be his last role in an American feature until 1979's Apocalypse Now. ~ Mark Deming, Rovi
Critic Reviews for Kid Blue
Audience Reviews for Kid Blue
Bickford: ''I aint got no gun, I aint got no wife, all I've got is a bed and board, and a job. And I'm tryin' to be as good a citizen as I can.'' Sheriff: ''Well now, that's the kinda story I like to hear, tell me that every time I ask ya and I wont havta shoot ya.'' - Kid Blue is one interesting western film. We've got The Kid himself trying to fend for his own in town after leaving his outlandishly con-life as a train robber. But things are pretty difficult in town, hard work takes place, and trying to fit in - but let us just say he runs into a bit of variables... or say, some trouble with the ol townsfolk and it's just not so easy. Will The Kid fit in and live a normal life? Or will he lead back to his old ways? Well, this film is indefinitely a fun, entertaining flick. With some pretty cool characters, and decent performances. The story is quite interesting and it kept me entertained all the way through with its absurd and odd occurrences, but it's all good. Pretty funny at times as well. I basically enjoyed it, and it is all good fun. It's watchable, and it is definitely worth checking out if you have the chance!
Amanda Ø.
½
Hopper carries over some of his Easy Rider theatrics into this film about an unsuccessful train robber having a go at going straight. He plays a likable character that meanders through the movie getting into mischief here and there while the a-hole sheriff (Ben Johnson) dogs him and anyone else he just does not feel "smells right". Peter Boyle is good as the crazy preacher that also wants to fly in his home made flying machine. In Easy Rider fashion, Hopper has scenes that preach to the audience about his thoughts on civilization and society. Now days, these come off as very lame, but I'm sure at the time in 1973, people were nodding their heads and saying "man, he is right on dude." Not a bad western and entertaining with only a few slow spots, but not a great movie. If you like light hearted westerns and Dennis Hopper, you'll enjoy this film.
Woody Woodrow
½
Too bad they don't make westerns like this anymore. A charming and fun film to watch. Intelligent and creative. Story about a half-assed criminal who wants to go straight, but finds the going difficult because he "looks" like a bad person (a naughty person, or somebody up to "no good"). So not only is his luck bad at robbing trains, but living life presents obtacles he can only laugh at because the obstacles appear to be so unfair. The film is a realistic look at how life is for some folks. Hopper is great, as is the rest of the supporting cast. And got to like that woman's hair.
M Sarki
Kid Blue Quotes
There are no approved quotes yet for this movie.
Discussion Forum
Discuss Kid Blue on our Movie forum!