Kidnapped
(2011)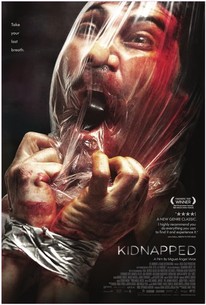 Movie Info
Jaime, Marta and their daughter Isabel, a well-off family, move to a luxurious new house. The parents are going through a rough patch but have decided to give their relationship one last chance. On the first evening in their new home, a group of three hooded men burst into the house. Their objective: To get as much money as possible out of them in one night. -- (C) IFC
News & Interviews for Kidnapped
Critic Reviews for Kidnapped
Audience Reviews for Kidnapped
½
Not quite sure what to make of this film. Parts of me loved it, like the ending and how it went against everything that one would see from this type of film on this side of the world, and parts of me didn't really like it that much. The ending is gonna be one of those types of things that you either love or you hate, there's hardly gonna be any in-between. Let's just say that the ending itself is bleak as fuck. I think that, and this is just me speculating, why the film wasn't received as positively by critics as compared to the audience, which was split right down the middle apparently. The ending makes it seem like your time was wasted and nothing came of it. I think that's a valid complaint, in some cases. But it's also far more believable that, you know what, not everyone of these people portrayed in house invasion thrillers are gonna make it out alive. Perhaps this film illustrates that point a little strongly for some people, but I think it works for what it was trying to do. That it does so in an ugly and unflinching fashion just makes it a little more believable in the long run. I think we can all agree that murder is a pretty heinous act. So, while I understand, somewhat, the need to clean it up so people aren't disgusted by what they see on screen, I can also appreciate the need to make it a little more believable in some films. I wouldn't say that this should be widespread, since horror-comedies like to have some entertainingly creative deaths, but I just wish more movies wouldn't shy away from the more unflinching and disturbing deaths for fear they won't get as many people to watch their movie. With that said, I didn't think the film was that good. It's a film that is great in small doses. The initial 'invasion' itself was really well-done as was the ending. Everything in between is a little rough going. Not to mention the fact that I don't think the movie really paced itself all that well, particularly considering the fact that it was so short. I just think that, outside of beginning and ending, the whole thing felt like every house invasion thriller you've ever seen. The acting is fine, nothing to complain about there. The film is also technically well-made. But that can only take you so far if you don't have a compelling story, and parts of it were, but, by and large, I didn't really care about the family and the ordeal they were being put through. There's minimal character work done before they're thrown into the house invasion, so it's really kind of hard to care. I suppose the idea is that you would relate to them based on the fact of what if it happened to you and your family. Sometimes that works and sometimes it doesn't. This was one of the latter. It's a shame considering that it was ended by such an excellent and inspired moment. Not much else to say about this really, a decent house invasion thriller with a great ending, but one that's not unlike every house invasion thriller you've ever seen for 85% of it. Can't exactly recommend it, but it's perfectly fine.
Jesse Ortega
Super Reviewer
½
Unfortunately, the movie that I watched was dubbed. I always have issues with that, so therefore I only made it halfway through...just wasn't worth my time.
Cynthia S.
Super Reviewer
Though "Kidnapped"s plot is not new, it is a well crafted Spanish thriller that delivers tension in a claustrophobic space with nasty, brutal and violent scenes that will make you turn your face a couple of time. I also enjoyed the ending. Let yourself be kidnapped by this thriller!