Kill 'Em All
(2012)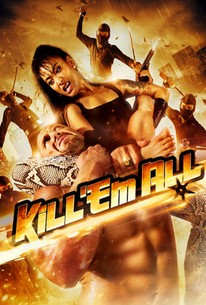 AUDIENCE SCORE
Critic Consensus: No consensus yet.
Movie Info
The world's top assassins compete in a grueling battle to the death after being locked in a state-of-the-art bunker with lethal ninjas, masked killers, and a ruthless madman named Snakehead who will slaughter any and all challengers.
Rating:
NR
Genre:
Directed By:
Written By:
On DVD:
Runtime:
Studio:
Well Go USA
Critic Reviews for Kill 'Em All
There are no critic reviews yet for Kill 'Em All. Keep checking Rotten Tomatoes for updates!
Audience Reviews for Kill 'Em All
One line summary: Terrible acting and screenplay in martial arts film set in Thailand. ------------------------ Set in Thailand. A number of martial artists/assassins are drugged by one means or another, then kidnapped and placed in a prison/gladiator building. The room where they wake up is where they get to fight to the death. That is, the eight of them fight until seven are dead, and perhaps one is alive. First a voice from outside the room introduces them and berates them one at a time. The voice sees to it that one of them is killed just to be able to say, 'obey or die.' There is a fatal encounter, then there is a box lunch session marked by stupid conversations, with the obligatory open mouthed sloppy eating. Then there is a second fatal encounter. The winners of the two fights get to choose weapons from a room off to the side. Then they are supposed to sleep. Right. After more fatalities, a few break out of the room and start exploring the building. There are more fighters from the 'cabal.' The protagonists have to deal with them before the boss. Lots of fighting. Some trash talking. Who cares. Does anyone get out alive? Do they defeat the boss? -----Scores------ Cinematography: 5/10 Footage from many crappy locations. Odd camera angles used to lessen one's enjoyment of the visuals. Visual quality is a bit better than VHS most of the time. Sometimes we view the movie from the CCTV view point of the observer who tells the fighters the rules. Wretched colour palettes. Sound: 4/10 Sound levels suck. If the sound is set to withstand the overly loud poor choices of music, then conversation cannot be heard. Acting: 0/10 Uniformly and completely absent. The people in the film look athletic, but are not actors in any sense. Screenplay: 0/10 Ridiculous fight choreography. Dialog that is beyond stupid.
Ed Collins
Full of all the goof and predicable sequences that lower the bar for modern Kung-Fu flicks. Flash in the pan material. Good for folding laundry to while talking to somebody. Good choreography though.
Hans Crynock
Disturbingly bad. The acting and dialogues are horrible, and the most annoying thing was that most of the characters couldn't speak English. It's like a very bad rip off of The Tournament plus House of 9. The film failed to introduce the characters from the very beginning of the film, I thought it was some badly made Asian Martial Arts film. Then you are introduced to all the Asian characters (What about others? They are all dead meat is it?) Then it became a Action Snuff film, with the annoying Asian host telling the assassins what to do. Basically, the film was a disaster, if only there were more non Asians along with more distinctive characters.
Sylvester Kuo
Super Reviewer
Kill 'Em All Quotes
There are no approved quotes yet for this movie.
Discussion Forum
Discuss Kill 'Em All on our Movie forum!