Kill Zombie! (Zombibi)
(2012)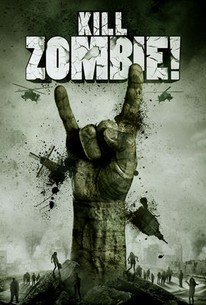 AUDIENCE SCORE
Critic Consensus: No consensus yet.
Kill Zombie! (Zombibi) Videos
Kill Zombie! (Zombibi) Photos
Movie Info
When a crashed Russian space station unleashes a terrifying zombie plague on Amsterdam, jailbird brothers Aziz (Yahya Gaier) and Mo (Ouled Radi) embark on a daring rescue mission with the help of a tough local cop (Gigi Ravelli). ~ Jason Buchanan, Rovi
Critic Reviews for Kill Zombie! (Zombibi)
All Critics (2) | Fresh (0) | Rotten (2)
It's merely yet another abysmal zombie title in a sea of forgettable tales about the walking dead.
infected by its own undead rot, it just shuffles, however self-consciously, through genre routines that never really seem fresh or fully alive. So when zombies go Dutch, the results are fun enough, but hardly extend the genre's boundaries.
Audience Reviews for Kill Zombie! (Zombibi)
½
Not a particularly good zombie movie, one that doesn't really set the world on fire as far as pushing the boundaries of the zombie genre, nor was it really meant to, but in an incredibly crowded genre, you really need some clever humor, or a really gory film to stand out. And this film has neither of that. At least the film is, admittedly, very silly, so it's good that it has a sense of humor. But it reminds me so much, perhaps not in plotting or character development, just in tone, of Shaun of the Dead that I'd have rather just watched that instead of this. There are some really inspired bits, one that I can remember really, and that's the scene where Joris gets bitten by a zombie, the virus doesn't work instantaneously, so Mo and Jeffrey try to do the right thing by killing him before he turns. You get to see from Joris' point of view as Mo and Jeff try to crush his head with the base of a lamp, a bowling ball, and a sink...none of which kill him and you hear Joris writhing in agony. It's not great but it was easily the best scene in the entire movie to me. There's also this scene where Mo and Jeffrey are discussing the negative effects of racial stereotyping as Mo's brother is getting attacked by a zombie right in front of them. This wasn't as funny as the previous scene I described, but it was amusing nonetheless. I just found that a lot of the humor feels incredibly forced to me, it's just trying way too hard and it doesn't necessarily work as well as it could. The acting also leaves a bit to be desired. The special effects, and by extension the gore, are also really poorly done. With the exception of the film not taking itself so seriously, but failing to provide decent and consistent laughs, and some clever moments, this film really does not offer much. Much like I said it makes you wanna watch Shaun of the Dead once again to see how a zombie/comedy hybrid is really done. The few bright spots are simply not enough to make this film worth watching. It's short and therefore won't really take much of your time, but there's no real reason for you to watch this movie. It's bad, but not horrible by any stretch of the imagination.
Jesse Ortega
Super Reviewer
Kill Zombie! (Zombibi) Quotes
There are no approved quotes yet for this movie.
Discussion Forum
Discuss Kill Zombie! (Zombibi) on our Movie forum!