The Killer Meteors (Feng yu shuang liu xing) (Wind, Rain, Two Meteors)
(1976)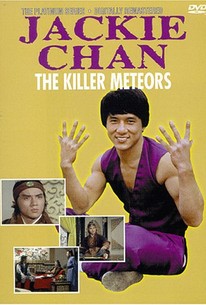 AUDIENCE SCORE
Critic Consensus: No consensus yet.
The Killer Meteors (Feng yu shuang liu xing) (Wind, Rain, Two Meteors) Videos
The Killer Meteors (Feng yu shuang liu xing) (Wind, Rain, Two Meteors) Photos
Movie Info
Directed by Lo Wei, Killer Meteors is based on a serial by Gu Long, and marks one of Jackie Chan's earliest roles -- namely, the villainous Hua-Wa Bin, one of the two men in the world well versed in a top-secret weapon. Led to believe that his own wife poisoned him, Hua-Wa Bin (Chan) hires "Killer Meteor" Mei Hsi-Ho (Wang Yu) to kill his wife and retrieve the antidote for the poison, despite the fact that Mei has always been his personal nemesis. Complications ensue when it turns out that Hua-Wa's wife is being guarded by a gang of some of the world's most skilled warriors around. Not only that, but her elite bodyguards were armed with a mysterious weapon capable of vaporizing anyone who crossed their paths. Before long, Hua-Wa is forced to jump into the fray in hopes of saving his own precarious existence. ~ Tracie Cooper, Rovi
Rating:
PG-13 (violence)
Genre:
,
Directed By:
In Theaters:
On DVD:
Runtime:
Studio:
Simitar
Audience Reviews for The Killer Meteors (Feng yu shuang liu xing) (Wind, Rain, Two Meteors)
½
The Killer Meteors boasts one of the earliest roles of Jackie Chan but truth be told Chan is rarely on screen and the east of the film is absurd fight choreography, wires, bad make-up and effects, and terrible editing. The tired plot becomes overly complicated towards the end making the dull film even more tiresome. Not recommended for fans of Kung fu films unless you enjoy those types that are all wires and little skill.
Jonathan Porras
This one gets trashed for two reasons: 1: it's advertised as a Jackie Chan movie while he gets very little screentime in a villain role, and 2: Lo Wei's reputation has been somewhat disgraced by all the triad dirt. On its own terms, though, this is a great so-bad-it's-good kung-fu flick filled with hilarious dubbing, plenty of bloodletting and surprisingly pretty locations. The plot is a pathetic mess, but to be honest, the same is true for most films with wuxia leanings. A lot of fun.
dsfsdfdsf sdfsdfsdf
½
Jackie plays second fiddle to Jimmy Wang Yu, famous for his one one-armed movies. At the time Yu was a much bigger star and, I believe, this role was intended to help Chan get attention to launch his career. Not a great movie, but worth a watch if you're a Jackie Chan fan.
Justin Colburn