Killer Movie
(2008)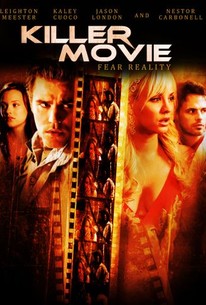 AUDIENCE SCORE
Critic Consensus: No consensus yet.
Movie Info
Writer/director Jeff Fisher, who cut his teeth directing episodes of such popular reality shows as The Simple Life and The Real World/Road Rules Challenge, make his feature directorial debut with this slasher satire about a television crew being stalked by a murderous psychopath. Up and coming television director Jake Tanner is out of a job. The reality show he was working on, "Back to the Ranch," has been cancelled, and now his agent has landed him a job as replacement director on yet another reality show - this one tracing the unlikely winning streak of a North Dakota high school hockey team. The first order of business for Jake is to contend with demanding celebutante Blanca Champion, who has been hired on as a production assistant. But Blanca doesn't seem to be taking the job too seriously, because when she's not taking cat naps or hitting on the local teenage boys, she spends most of her time researching an upcoming film role that she hopes will be her big breakthrough. Later, when Tanner's crew-members start disappearing, Blanca proves to be the least of his worries. The body count is piling up fast, but who could be responsible? Is it the bible-thumping ex-convict from the backwoods, the short-fused hockey coach, or perhaps the producer with an unhealthy fixation on ratings?
Critic Reviews for Killer Movie
All Critics (1) | Fresh (0) | Rotten (1)
...suffers from a pervadingly humdrum atmosphere that effectively cements its place as a watchable yet entirely uninvolving horror endeavor.
Audience Reviews for Killer Movie
A terrible film that tries to satire the film industry but ultimately failed. All the actors are unbelievable good looking, plot was cliched, and script was terrible. It's a huge disappointment to see Kaley Cuoco starring in some junk like this. This is just another one of your average product from Hollywood.
Sylvester Kuo
Super Reviewer
Yet another example of a correct judging a book by its cover, Killer Movie seems to be simply suicidal. Not a film in the parody genre, this is another slasher film that Hollywood slapped together in the hopes of capturing the attention of an audience with nothing better to do. I give the film credit for inventive murders and some interesting dialogue, but it was very unfortunate casting, writing, and plot that caught this film unawares. The characters were boring, and therefore I did not mind when their murdered corpses were put on display for all to see. Gratuitous sex is scattered around, but most is either nonsensical or plopped in front of us as if it fell from the sky, only there to titillate the fourteen year old boy demographic. The premise could be construed as original, but the follow through is found wanting, intercutting a reality show format between the decapitations that makes the characters unlikable. I give props to Kaley Cuoco, stepping outside of her comfort zone that includes roles of bubble headed blondes and into one...where she's a bubble headed blonde who is rather mean. Wow, what a turnaround. If you're looking for a horrific horror film, this is for you.
Spencer S.
Super Reviewer
½
Killer Movie is as by-the-numbers as a slasher can be, but I still got a decent amount of enjoyment from watching it. Yes it's painfully obvious who the killer is, but I just couldn't bring myself to hate all the cliches and unimpressive kill scenes. Plus, I thought that the faux documentary format was kinda cool. Basically, I've seen much worse movies.
Killer Movie Quotes
There are no approved quotes yet for this movie.