Killer Nerd
(1991)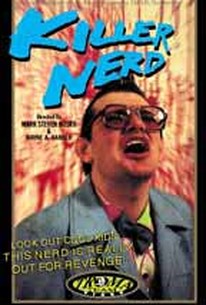 AUDIENCE SCORE
Critic Consensus: No consensus yet.
Movie Info
Nerdy, sexually frustrated Harold Kunkle gets gory but inventive revenge upon those who torment him in this blood and guts-spattered horror show.
Rating:
NR
Genre:
,
Directed By:
Written By:
On DVD:
Runtime:
Audience Reviews for Killer Nerd
An absolute waste of time. I remember i was eating jalapeno chips while watching this and after that i didn't eat jalapeno chips again for quite some time.
Wesley Jacobson
We now return to Tiebar, the creature that lived! Harold Kunkle's life is not full of excitment and wonder, tell he takes a bad trip on Slick Dicks school of cool audio cassettes.
Greg Ledbetter
Killer Nerd Starring: Toby Radloff and Heidi Lohr Directors: Mark Steven Bosko and Wayne Harold Harold Kunkle (Radloff), a nerd so nerdy he crosses into geek territory, becomes enamoured with a co-worker (Lohr) and takes steps to become "cool," primarily through the use of a self-help tape. When his efforts fail, something within him snaps and he goes on a killing spree, taking gory revenge on all he feels deserves it. I may have approached "Killer Nerd" with too high expectations; the cover indicated that it had been voted Favorite Movie by visitors to [url="http://www.troma.com/"]www.troma.com[/url], the website of the film's distributor. I am left wondering what this film might have been up against in that poll, because Troma has certainly released better movies over the years. (Just about anything with Lloyd Kaufman in the director's chair comes to mind.) That said, for a shoe-string budget movie, it could be worse. It's an okay slasher-movie/revenge flick spoof. The acting is stiff but passable, and if the jokes had been delivered with just a bit more grace on the part of the performers, I think many of them would have been hilarious instead of just smile-worthy. (The cast and editing of "Killer Nerd" demonstrate the old addage that in comedy timing is everything.) Speaking of timing, I think the film could have been stronger if it got to the "killer nerd" part quicker than it did. Harold is such an extreme stereotype that the filmmakers could have easily dispensed with some of the "character development" in the early part of the film and given him a few more victims to whack. (Although, even the obviously limited budget, maybe they couldn't have afforded anymore gore effects.) In the end, "Killer Nerd" is another one of those indie films with a nifty idea at its core, but which suffers from a botched execution. It's watchable, and it even has some funny bits, but it's not a film you should feel bad about missing.
Steve Miller
Killer Nerd Quotes
There are no approved quotes yet for this movie.