The Killer Shrews
(1959)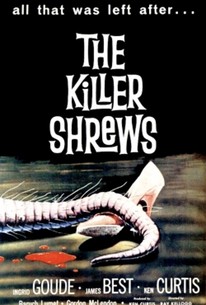 Movie Info
A scientific experiment on a small island off the coast of Texas goes horribly wrong and transforms a group of mild-mannered shrews into horrific, gigantic, killer beasts. This campy, low-budget thriller follows the effort of the island's population to defeat the beasts and ensure their own survival.
Critic Reviews for The Killer Shrews
Audience Reviews for The Killer Shrews
The new MST3K Netflix original has been released and I decided to expose myself to some of the old episodes available for streaming on Hulu and Netflix (there is a different random selection on each platform). Whether it is Joel or Mike watching these awful movies with the bots I do not envy the torture they are put through. Their snarky comments add some entertainment value, but my ratings are based on the movie's quality itself and not the extra material broadcast from the satellite of love. A black man is the stereotypical comedy relief. This movie also has a foreign mad scientist, a damsel in distress, and a dashing hero. Cheaply made and full of clichés. It is memorable for the silly monster effects. These switch between hand puppets of the snarling heads of the shrews and greyhound dogs in costumes that make them extra hairy, but with hairless tales to look more rodent like. The bare minimum of thought was put into all aspects of this production.
Byron Brubaker
Super Reviewer
Why are the actors standing around talking and drinking for almost all of this movie? The ending has some exciting moments, but they're kinda crazy too. This is a pretty bad excuse for a film.
Boring, horrible acting and a highly implausible storyline make this truly a bottom-of-the-barrel piece of trash. Nothing at all good about this film except that it's not much more than an hour so the pain doesn't last too terribly long.
Derek Daniels
Super Reviewer
The Killer Shrews Quotes
There are no approved quotes yet for this movie.