Killer Swarm
(2008)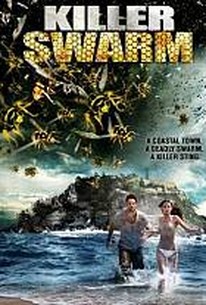 AUDIENCE SCORE
Critic Consensus: No consensus yet.
Movie Info
When a swarm of aggressive black bees with highly toxic venom attacks a heavily populated city, scientists race to develop an antidote and prevent mass casualties. ~ Jason Buchanan, Rovi
Critic Reviews for Killer Swarm
There are no critic reviews yet for Killer Swarm. Keep checking Rotten Tomatoes for updates!
Audience Reviews for Killer Swarm
It's time to party like a rock star, or so you would think from the opening scene of Killer Swarm. The main character Carla has a flawless beauty; you know the kind of woman who looks naturally pretty without make up. Her image is attached to intelligence, curiosity and independence- complimenting her travels through lush landscapes and inviting ocean views by car, boat and mopeds. After a 13 year departure from her home, shortly after her Mother died and her Father remarries and has another daughter, named Maria, Carla is returning to face the family. Carla's Father is the first victim affected by the incoming wasp infested community, and the swollen bite on his hand eventually leads to a deathly visit to the infirmary. The doctor isn't helping as quickly as Carla would like, so she has to take matters into her own hands. With her background in medicine and the use of the internet, she diligently finds information that empowers her search. Carla's best friend is an entomologist turned taxi driver named Ben Herzog, who helps her find the serum to save her Father's life. The decision makers in law enforcement were buzzing around to prepare the city evacuation due to a town tenting to terminate the influx of these suicidal fleas. Nothing will stop Carla from finding the underground lab to kill the queen bee and locate the magical vial of safety. The bee keepers call the onset Colony Collapse Disorder (CCD), natural hunters looking to expand their fellowship and nothing seems to stand in the way. You will definitely be kept on the edge of your seat like riding a roller coaster, as the movie unravels with many twists and turns. Even with the elevating stress levels Carla encounters as the clock keeps ticking, Ben stands by her through the entire journey. There is a bonding scene between Carla and her Stepmother that seemed to Band-Aid any previous resentment Carla had had for her. I like how their friendship developed on the foundation of a common interest to help save a life. Every once in awhile Carla receives a call on her cell phone from her boyfriend Marcus inquiring about her return, but you can just tell when a woman isn't in the mood to talk. She doesn't even entertain the idea of telling him what's going on, and by the end of the movie his role is null and void. Her mindset wasn't going to be altered at any point, and the movie kept building momentum of how it would come to a head. Buy it, Rent it, or Queue it up! Available everywhere June 1st!
Lucy Love
½
good movie... interesting. Once again nature shows us its power and capabilities... this time it is not a tornado or an earthquake.. its an imminent attack of killer bees! *sponsored post
Luv Latinfilms
Killer Swarm Quotes
There are no approved quotes yet for this movie.
Discussion Forum
Discuss Killer Swarm on our Movie forum!