Killer Tomatoes Eat France
(1991)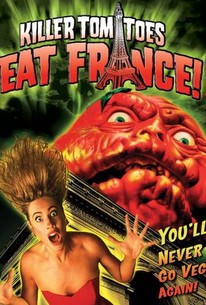 AUDIENCE SCORE
Critic Consensus: No consensus yet.
Movie Info
The low-budget "Killer Tomatoes" series closed with this fourth chapter starring a returning John Astin as the resurrected Professor Gangrene, who resurfaces in France to continue his ongoing plot for world domination through the care and maintenance of the title fruit. Hoping to bank on his sidekick's resemblance to King Louis XVII (long prophesied to return to his throne), Gangrene sends his armies of tomato-monsters (who sport snarling, feral faces and one-liners this time out) to eliminate those who stand in his way. Among them is the nominal "hero," a has-been actor (Marc Price) spurred by the vacillating affections of winsome Parisian Marie (Angela Visser) to join the French army against the Juicy Red Menace.
Rating:
PG
Genre:
, ,
Directed By:
Written By:
On DVD:
Runtime:
Studio:
20th Century Fox Film Corporation
Cast
Critic Reviews for Killer Tomatoes Eat France
There are no critic reviews yet for Killer Tomatoes Eat France. Keep checking Rotten Tomatoes for updates!
Audience Reviews for Killer Tomatoes Eat France
1st film: So bad its amazing. 2nd film: Not as good, still fun to watch 3rd film: Ok guys, time to stop now. 4th film: utter dogcrap.
Caleb Ninja
½
More goofy killer tomato nonsense, but at least this one has some enjoyable moments. The opening credits have more laughs in it than the whole movie, but at least the characters are somewhat decent and the plot isn't so bland. The tomato puppets are a bit better, and the jokes are fun although cheap. It still doesn't feel a thing like the first film.
Wes Shad
Final entry in the Killer Tomatoes franchise, this film has nothing interesting going for it. The film relies on previously explored ideas to deliver its entertainment, only thing is there is nothing clichéd ideas don't work here, and it's what makes this final entry one of the worst in the series. The film could have been a fine final conclusion to a wacky horror comedy series. Unfortunately by the third sequel in the series, the filmmakers just recycled old ideas and delivered a film that is simply forgettable. I think that this is a shame because the first two films in the series were great, but afterwards in went downhill, and this fourth and final entry in the series is the worst. There could have been an interesting, fun film here, but the film simply doesn't cut it. Instead we have the same old, tired formula, and everything is predictable. This series could have ended in a high note, but it didn't. If you're going to watch this film, be warned that there is nothing new here, same old ideas and nothing else. The concept worked well for two flicks, but not so much for a fourth film. Like I stated earlier in this review, this film could have been a good conclusion to a fun series, unfortunately like its previous entry, this film suffers from a bad script where all the ideas have been previously used, and really there's nothing new or fun here. Stick with the first two films and forget that Killer Tomatoes Strike Back and Killer Tomatoes Eat France exist.
Discussion Forum
Discuss Killer Tomatoes Eat France on our Movie forum!
News & Features