Killer Tongue
(1999)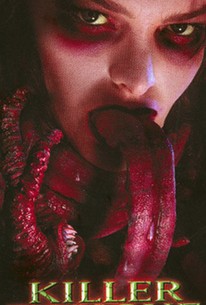 AUDIENCE SCORE
Critic Consensus: No consensus yet.
Movie Info
This throwback to the 1950s and '60s sci-fi flicks is a Spanish-British production. After con artists Candy and Johnny pull off their latest job, Johnny gets caught, and Candy escapes, only to consume part of a meteor that makes her grow a killer tongue and turns her dogs into drag-queens.
Critic Reviews for Killer Tongue
All Critics (3) | Fresh (0) | Rotten (3)
Sometimes you can know a stinker from its title, and, indeed, something by the name of Killer Tongue has 'crap' written all over it.

Mountain Xpress (Asheville, NC)
Audience Reviews for Killer Tongue
This has to be one of the worst movies I have ever seen. It is absolutely bizarre, sick and insanely stupid. I was stunned and amazed at the sheer stupidity. It is imaginative, but with a movie this bad it doesn't matter.
James Higgins
½
Killer Tongue (or La Lengua asesina in it's native Spain) is the hilarious story of two star-crossed lovers/criminals. When the man (Jason Durr) goes to prison, the woman, Candy (Melinda Clark, who looks much better here than in her lead role in Return of the Living Dead III), takes refuge in a desert gas station with her 4 poodles. One fateful day, a meteorite comes crashing down and an alien takes over Candy, inhabiting her tongue and giving her directions like a modern day Eylmer (Brain Damage for those confused by the metaphor). To answer your question, yes, this movie is completely absurd, but it's a lot of fun and entertaining. What could make a movie about a talking, killer tongue on a hot babe even better? Why not ludicrous appearances from Doug Bradley (credited as Dough Bradley unfortunately) and the great Robert Englund. For a few good laughs, check out Killer Tongue.
Jason Duron
This impressed me more when I first saw it in high school, when I hadn't been exposed to as many movies that were weird for a purpose rather than weird for weirdness's sake, as this one is. Why does the tongue speak with the same accent as Moe from The Simpsons? A lot of high camp all around, as with Robert Englund's fascistic, closeted prison warden, two bumbling thieves with an ambiguously gay connection, and a quartet of dogs who get turned into flamboyant drag queens (with a young Jonathan Rhys Meyers as a dog-turned-prettyboy!). The chick who plays Candy is fucking gorgeous, by the way.
Leia C
Killer Tongue Quotes
There are no approved quotes yet for this movie.
Discussion Forum
Discuss Killer Tongue on our Movie forum!